Please note: There is an updated version of this post. Some of the plugins are different so you may still want to browse this older post as well.
You can find the newer post here:
The Best Free VST / AU Plugins 2015
This the third and final part of my big free VST / AU plugin review. We truly have some great stuff lined up! In case you're wondering, all of these plugins are compatible with both Mac and PC platforms. 
If you haven't seen the first two parts yet, here are the links (I suggest you also read the introduction in the first post):
The 25 Best Free VST / AU Plugins for PC and Mac in 2013 – Part 1
The 25 Best Free VST / AU Plugins for PC and Mac in 2013 – Part 2
Here we go!
8. Acustica Audio Nebula 3 Free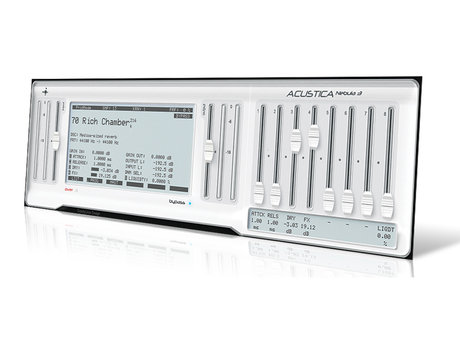 Nebula 3 free gives you a palette to color your mix with full spectrum of analogue goodness. It is a bit of a tricky one to master, so let's get in a bit more detail about this plugin.
Let me be straight: Nebula 3 Free would have won the #1 place in this article if there weren't for two things:
It's difficult and cumbersome to download, install and use. The lack of information from the devs can get very frustrating.
No 64 bit support for Mac (at the time of writing this). That means you won't be able to use it in Logic X or Mac version of Live 9 for now.
It's a real shame, as the plugin itself sounds fantastic!  Many people will be put off by those two problems, but for the rest, this plugin can really work wonders.
Nebula is a dynamic convolution plugin that aims to deliver the sound of classic hardware preamps, EQs, reverbs, tape machines and so on. Convolution works via impulse responses which are little bits of sound sampled from actual pieces of hardware. This technology provides great sonic quality and possibilities.
Convolution technology sounds great but also has downsides – it's heavy on the CPU and you are pretty much limited to the settings provided to you by the developer (or the creator of the impulses). With this being a free plugin one can't really complain though. With static type of units such as preamps and tape machines it doesn't really matter anyway. As far as the CPU usage goes, modern computers are able to run a good amount of Nebula 3 instances in a mix.
The full version of Nebula is nominated for the plug-in effects category in Sound on Sound Awards 2014.
The free version has a lot less content, but still has many great and very usable settings – my favorites are the preamps and the reverbs. A quick test running one of the preamp  settings over 8 channels (one instance on each) and then comparing to a dry version quickly reveals what magnificent things Nebula can bring to the table. It is a very subtle effect, but the trick is to use it extensively throughout the mix. It also works on the master channel.
Nebula 3 free is bulky and weird to use at first. Mixing with Nebula requires putting yourself in a different kind of mindset. If you can get over that though, you are set for pure ear gold. Using one of the 13 provided preamp settings on each of your channels alone can transform the sound of your mix entirely. It's also very fascinating to explore how switching to different impulse presets changes the character of the entire mix.
In order to download Nebula 3 Free, you must register at their website and "buy it" from their shop (it doesn't cost anything).
The developers seem to be concentrating on working on the product itself, while creating confusion and frustration amongst customers by making a lot of things unnecessarily difficult. The website is cumbersome and the lack of easily accessible information is frustrating.
I wasn't spared from trouble when installing Nebula 3 free. I almost gave up but I had heard too many good things about this plugin so I kept trying. Finally I found out that in order to get the plugin to work on my Mac I had to switch Logic back to 32-bit mode for a bit and then run the audio unit manager from within Logic's preferences, and manually validate the plugin instances.
It's good to know there is an active user community on the Acustica Audio forum, so help is there if you ask.
To sum it up – this plugin may not be for beginners but if you know what you are doing and are looking for a way to push your mixdowns to a new level, I would highly recommend checking out Nebula 3 Free. The devs have a lot to improve in terms of user friendliness, but that doesn't take away from the fact that the plugin itself is very unique and sounds great.
Platform: Mac 32 bit, PC 32 bit and 64 bit.
7. Ohm Force Frohmage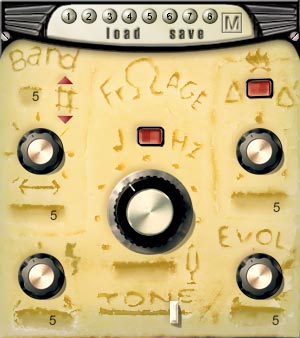 This plugin is one absolutely crazy cat! I've been rolling with it for years by now. It can go from very subtle effects to absolutely destroying the sound or transforming it to something completely different. And I love that it doesn't sound like anything else out there. Ohm Force are on top of their game and this plugin is no exception.
Hint: Try automating the "Evol" control.
Platform: Mac & PC, 32 bit and 64 bit.
6. Sonimus SonEQ

If you're after a good analog-modelled EQ plugin, look no further. Sonimus SonEQ is modelled after two legendary analogue EQ's: the API 550 and the Pultec EQP. It has 3 EQ bands as well as high- and low-pass filters.
If you drive it hard enough, it will start to saturate the sound in a very pleasant way. I also love the way it's able to boost high frequencies without making them sound artificial. It's a great EQ that really makes you listen and make decisions based on what you hear, instead of what you see.
Features:
3 band Equalizer, Low, Mid, High.
2 Musical Filters, High-Pass Low-Pass.
Preamp stage with bass booster.
64-bit floating point precision.
Up to 192kHz sample rates supported
Platform: Mac & PC, 32 bit (64 bit version is coming).
5. Ohm Force Symptohm Melohman PE
I love this one! Symptohm Melohman PE is a simplified version of Symptohm. Editing features are very limited but it uses the same sound engine. It sounds beautiful. Bass is fat and deep. Pads are lush and serene. The leads pierce your ears. There is a good bunch of sounds to play with in the preset browser. But the fun really starts when you discover there are many different variations of each preset under the "Meta Patch" section to the right. Don't miss out on that!
Platform: Mac & PC, 32 bit and 64 bit.
4. Camel Audio Alchemy Player

Camel Audio Alchemy Player is stripped down version of their huge Alchemy synthesizer.
Stripped?
It comes with 1GB of sounds. That's 150 excellent preset sounds and you get another 50 by registering at their site.
You don't have a whole lot of control over the sounds, but hey – the sounds are so good that I rarely want to touch them in any case to be honest. I just love browsing the presets and playing with the beautiful sounds. I've used Alchemy Player in lots of tunes and it continues to enchant me!
Platform: Mac & PC, 32 bit and 64 bit.
3. Flux Bittersweet v3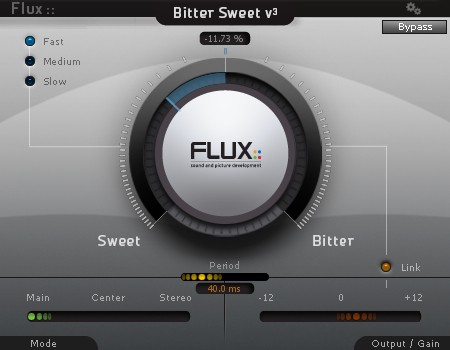 This little plugin has been one of my secret weapons for years. It's a transient shaping plugin which you can use to either magnify or decrease the transient content in your audio signal. One of my favorite tricks is to compress a drum part to bits and then use Bittersweet v3 to bring back the transients. Bang! It's also great for many kinds of more subtle situations and dynamic restoration.
Platform: Mac & PC, 32 bit and 64 bit.
2. TDR Feedback Compressor II
TDR Feedback Compressor II is almost too good to be free. The fact that it's nominated in the Plug-in: Processing section of Sound on Sound Awards 2014 alongside some rather expensive plugins from companies like Soundtoys, Universal Audio, Waves, iZotope and Slate Digital speaks for itself.
TDR Feedback Compressor is not an analog emulation, like so many other plugin compressors out there. It's a proud digital unit with some powerful next generation features.
Most modern compressors analyze the input signal to control gain reduction. This is known as a "feed-forward" topology. The TDR Feedback Compressor II, however, analyzes the output. This approach delivers unobtrusive and highly musical compression characteristics which mean the compressor is able to handle complex signals with ease.
TDR Feedback Compressor 2 offers some really cool features. One is the delta mode, which allows you to preview the difference between the compressed and original signals. Extremely handy. The independent release controls for Peak and RMS compression are also great to have. They make this compressor plugin really versatile.
The plugin fully supports 64-bit operation and is made to match the highest standards in every way.
The manual is good and because of the unusual feature set, you should really read it before using this plugin. But once you grasp the power this plugin offers, you will surely keep coming back to it.
TDR Feedback Compressor II is a highly competent compressor plugin and can stand proudly head to head with it's paid alternatives.
Platform: Mac & PC, 32 bit and 64 bit.
 1. Voxengo Span
Voxengo Span is a brilliant free real time spectrum analyzer. I have used many spectrum analyzers in the past, both paid and free, and Span is definitely one of the best. It's one of the most useful plugins I've ever used. That's what has earned Span it's place at the top of this list.
A lot of Span's usefulness comes down to the clean and informative display which can be resized to whatever size you prefer. There are also loads of options for configuring the behavior and looks of the analyzer.
Span does multi-channel analysis too. You can set it to show spectrums from two different channels or channel groups at the same time.  The colors can also be set as you like.
Span also features output level metering with RMS reading, adjustable ballistics and integration time and K-system metering (including calibration K-system metering).  It displays level metering statistics, headroom estimation and clipping detection (tip: go to preferences, switch on the density mode and watch what happens). On top of all that, Span also has a phase correlation meter.
Span defaults to a rather unusual -4.5 dB spectrum slope which can be confusing at first if you're used to looking at analyzers with a different slope. The slope in Span is fully adjustable however, so don't get freaked out.
Voxengo have a great reputation as a manufacturer of quality VST and AU plugins. With products like Span you can really see why.
Standout features:
Adjustable spectrum resolution to fit all situations.
Adjustable spectrum slope.
Extremely versatile options – set it up the way you prefer.
Ability to resize the analyzer display.
Shows a precise frequency reading in Hz as well as notes as you hover over the spectrum.
Hold function (freezes the spectrum).
Platform: Mac & PC, 32 bit and 64 bit.
Bonus plugin: Ambience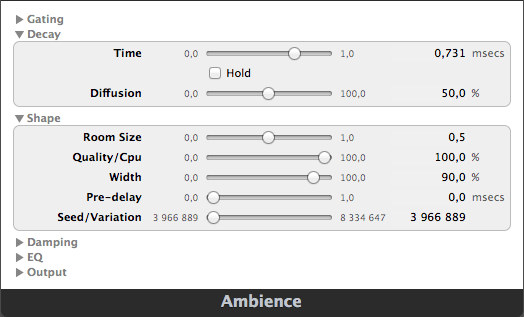 I was only informed about this plugin after writing and publishing the first two parts of this article. But after trying it out I decided Ambience had to be included.
Ambience by Magnus Jonsson is a fantastic sounding reverb. It's quite old and the AU version does not have a fancy GUI. But that doesn't mean anything. It sounds huge. Try putting it over a sharp lead synth and crank up the time setting and you will know what I mean. This is another one of those secret weapon type plugins for sure.
Unfortunately it only has 64 bit support for Mac (not Windows).
Platform: Mac 32 bit and 64 bit, PC 32 bit.
Final words
So there we go! My take on the best free Mac+PC compatible plugins out there at the moment. Even though I did a lot of research, it's very likely I've missed some good ones. Please feel free to share your favorites in the comments.
If you take your time to learn these plugins properly I'm sure they will bring you a lot of joy, and probably spare some cash too.
If you enjoyed this article, please consider sharing it on Facebook, Twitter, Google+, Reddit, Digg, forums or whatever way you prefer. A lot of work goes into making this blog happen. Getting the exposure enables me to keep bringing you more good stuff in the future. Thank you!
If you wish to receive email updates when new posts go online in the future, enter your email address below:
[ois skin="Email Landing Page"]