The Italian company Acustica Audio are known for their quest on uncompromising sound quality and accuracy in emulating analogue sound and equipment. They sent me the Blue Eq plugin from their Acqua series to try out (thank you very much). I have given it a good spin – here are my thoughts.
A Word About Acustica
Before we go further with the review, I think it's important for you to know some background about Acustica and their software. This is simply because their entire operating concept is different to most of the other stuff out there.
Acustica have been developing their unique software engine for a long time (I think their original Nebula plugin came out in 2006). That same engine is being used throughout the entire range of their plugins. They call it "V.V.K.T." (Vectorial Volterra Kernels Technology).
VVKT is an advanced form of convolution that is based on multisampled impulse responses. It's a very different approach to algorithmic software (=most other plugins out there). Acustica's technology allows very precise sampling and reproduction of tonal qualities (including phase) of all kinds of analog equipment.
The biggest difference in VVKT compared to traditional convolution technology is that Acustica's engine isn't static. It allows harmonic distortion and dynamic behavior for example.
The end result and quality of a particular product depends very much on the actual hardware units used for sampling, as well as the quality of the sampling itself. Acustica are working with some extremely dedicated people on that arena – in the case of Blue Eq they have worked with Analog In The Box.
The downside to all of this is of course that the Acoustica products use up a lot of resources from your computer.
Acustica have been clear about that all along: they want to push the boundaries and put the emphasis on quality over CPU resources. That is their mission, and I think that's very important to understand when evaluating the plugins.
Concept
Blue Eq is an analog modeling character EQ. Acustica say the Blue Eq is a detailed emulation of vintage-revisited semiconductor equalizer, inspired by legendary British devices. It is not a direct copy of anything, but it seems like they have been looking at (and sampling) the Chandler Germanium Tone Control unit.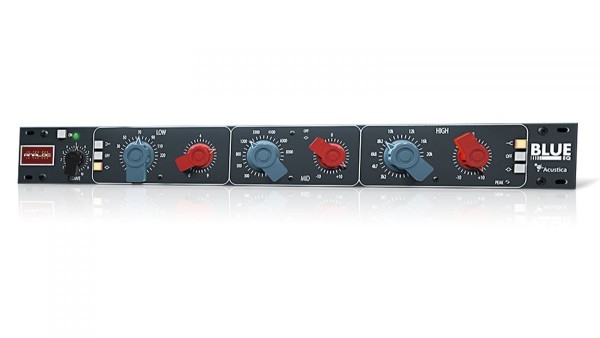 Here is how the plugin is described in the manual:
The Blue Equalizer uses active and passive eq circuits in combination with the amplifier based on vintage germanium semiconductors. All bands use inductors for the fattest smoothest tone possible. The passive low frequency section is selectable between "Pultec/Lang" interactive curves and more standard low frequency with pass filter for maximum flexibility, while the high and mid bands are active and designed to sound like your favorite British eqs from yesteryear.
Controls
The Blue Eq has very straightforward controls.
There are three bands: Low, Mid and High.
The Low band is boost only. You can select between shelf and peak filters. The low band is a passive design which (to simplify a bit) means that when you boost, you aren't really boosting the chosen frequency. Rather, all of the other frequencies are being brought down. The Pultec along some other very classic equalizers operate in this way. It helps maintain the natural fullness and tone of the source material. It is especially beneficial in the low end in my experience, because the low end is very vulnerable to distortion and phase issues.
The Mid band is a peak that can cut and boost.
The twist to our mid control is that each frequency is tuned with a specific Q or width to make it most effective in areas where it will normally be used. 300, 500 and 800 have a sharper Q to make removing muddy mid range areas more effective. 1200 and 3300 have medium Q while 4100, 6200 and 8300 are wide for smooth brightening of tracks.
The High band can cut and boost, and can be switched between shelf and peak filters.
The high band is an active control designed in the British tradition. There is 18db of boost and cut available on eight frequencies. It is also switchable between bell and shelf for flexibility. The bell is purposely set at an even wider Q than mid section for smooth gentle highs.
It's worth noting that all of the controls are stepped. I happen to quite like that myself.
In addition there is a GDRIVE control that introduces some subtle but wonderful harmonic distortion.
As you can see there aren't many controls, but it has all been very carefully designed.
I do think one thing is missing though: I would really like to have output gain adjustment. It is hard to judge the actual effect of equalization as the gain jumps up or down when going to bypass.
Sound
There's no way around it: Blue Eq sounds fantastic.
The bottom end is huge. It sounds full and weighty. You can give it a really good whack without the sound crapping out.
The mid range is great for boosting and cutting alike. I especially like it for giving weight and presence to snare drums. It doesn't make things sound muddy or thin.
The high range is equally good for boosting and cutting.
This is a not a transparent EQ. It is designed to give character – you can go crazy with it and it performs really well!
Blue Eq has quickly become my go-to tool for situations when I want to add low end weight on something. But it also performs really well on midrange duties, especially when you want to get really aggressive and shape the sound dramatically. The high band I like to use too for brightening things up.
CPU & Stability
The technology Acustica are using is very CPU intensive. Acustica have always been very clear on that what they are after is extremely good sound quality, and the CPU cost comes with the territory.
Having said that, Acustica have been working on the engine that runs under all their plugins, making it better and also more CPU efficient.
Their newest plugins with "Core 6" engine version are supposed to be much more efficient. However, Blue Eq is older and has not seen the update to the newer engine at the time of writing this.
There have been reports on the forums about Blue Eq crashing, but I haven't had any problems with the latest version (1.3.907). I am running a mid-2010 Macbook Pro core i7 2.67 GHz, 8GB RAM, OS X 10.8.5, Ableton Live Suite 9.2.
The only thing I can complain about is that there is a lag and sometimes slight audible crackle when adjusting the parameters on my system. But I can live with that because the plugin just sounds so good.
Acustica Audio Blue Eq Review – Conclusion
The Good:
Sounds mighty good. I especially like it for boosting the low end on anything that could use some big fat analog bass. Mid and high bands are great too.
Very straightforward to use.
The GUI looks great.
Acustica's customer support has been good and helpful with me.
At 89€ the plugin isn't exactly cheap but Acustica are offering generous (30-40%) educational discounts to students and teachers. I think the pricing offers good value for the money.
The Bad:
No output gain adjustment.
Heavy on the CPU (but that is the tradeoff for extremely good sound quality, however I do hope there will be an update to the more efficient Core 6 engine).
There is a slight lag when using the plugin (at least on my admittedly old computer). Not a huge deal, but takes away from the smoothness of the user experience.
No AAX version for the Pro Tools crew (but there are plugins like DDMF Metaplugin and Blue Cat's Patchwork to work around that. I've been using NI Maschine to host VST/AU plugins in PT but it's a hassle).
No trial available. I have read on the forums that Acustica are offering a refund for those of their products that don't have a trial version available. But you do have to contact them about it before making the purchase. This is very awkward. Also the official refund policy stated on their website is unclear on the matter, so don't count on my word on getting your money back if the plugin doesn't work out for you.
Note: The authorization process has confused some people (including me) as the instructions on Acustica website aren't the best. However you will find better instructions in the manual.
To sum up:
I recommend this EQ for it's gorgeous low end behavior alone. Add the wonderful sounding mid and high bands and you get something truly special.
Because of it's CPU use the Blue Eq is not a tool you can use on every channel of the mix (at least in real time). So you have to be strategic with it.
It's a bummer that there is no trial available, but I really don't think you would be disappointed with how the plugin sounds. Stability and CPU cost in everyone's specific situations is another matter altogether though, and that is why I think it would be crucial to offer trial versions. I recommend contacting Acustica to ask about their refund policy before making a purchase.
In any case, thumbs up for this Acustica – Blue Eq is a fantastic plugin. It's not perfect but I know the company is working hard developing their magnificent sounding technology into a more user friendly direction. We need companies like Acustica who are pushing the boundaries. Well done!