I wanted to share with you my thoughts on the Adam S2X monitor speakers, which I've been using for the past few months now.
Before we start, my background in case you don't know:
I am not a Hi-Fi enthusiast, nor do I understand a whole lot about the technology and techniques involved in building monitor speakers.
I'm a music producer and a mixing engineer, and I do occasional mastering work. So that is my perspective for writing this review.
Why the Upgrade?
So a few months back I upgraded from from Adam A77X to Adam S2X.
The S2X are my third pair of Adam monitors in the past years. It goes without saying I've always been very happy with the brand. I've come to trust Adam products as reliable and robust tools for my work.
I have to say that I have been very happy working with my previous monitors, the A77X. So why upgrade then? There were two reasons:
The room I currently work in is smaller than my previous one. The A77X are 3-way speakers. When placed sideways as intended they were a little too big for my current space. The listening position was too close to the speakers. I would sometimes use the A77X in upright position to get around that, but to me the imaging clearly suffered from that. So eventually I would rather use them sideways even though that meant I was a little bit off from the sweet spot.
I have also been doing more and more client work recently. I wanted to make that step forward to gain a little bit of extra edge.
Why Adam S2X?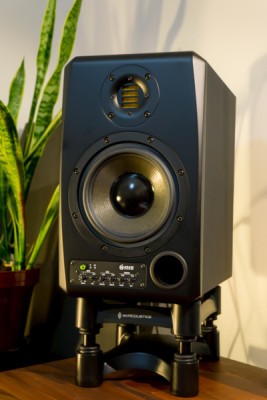 In a nutshell, my requirements for the new monitors were:
Smaller than the A77X. In practice this meant getting 2-way speakers.
More precision and quality than the A77x (which are already very good speakers).
Good enough bass response to write bass-heavy electronic music without a subwoofer.
Since I've been a happy user of Adam's AX series of monitors for years and I was "maxed out" there, the logical place to look for me was their high end SX series.
So what's the difference between the Adam AX and Adam SX series?
The SX series is completely designed and purpose-built for professional use. The AX series uses some of the same components from the SX series, but also aims to keep the price point low enough for the upscale home recording market. In addition Adam have the F-series which is their lowest price point (I have no experience with the F-series myself).
So after checking out the different options in the SX series, I ended up going for the S2X model.
The S2X is designed as nearfield monitor for use in small and medium-sized control rooms. It filled all my requirements perfectly.
The Sound
Having used Adam monitors for years, I was really hoping the sound of the S2X would not be too different to A77X – just more precise.
I didn't have the chance to listen to the speakers before buying. Of course there's always the option of returning the product if something doesn't work out. But having said that I had already come to trust the brand, so I was quite confident I would like the new speakers.
It turned out I was right on the money with my expectations.
The S2X sound beautiful. The sound resembles the A77X enough that it only took me a couple of days to adjust. So the signature Adam sound is definitely there, but compared to the A77X there's more precision in terms of frequency, dynamics and imaging.
It's a joy to listen to all kinds of music on them. What about music work?
By now I've done a fair amount of production, mixing and mastering work using the S2X. They are fantastic.
As I mentioned, the sound of the S2X is very precise and detailed. When doing mixing on them it's actually easy to get carried away with tweaking fine details when you should be focusing on something else!
I am using a single Avantone Mixcube speaker to get around that problem.
I often start mixing using the Mixcube (set up in mono). And when I have the mix in the right ballpark on that, I transition over to the S2X. This way I avoid falling into the trap of tiring and confusing myself by tweaking irrelevant details too early in the process. And I have the full force of the S2X at my disposal for tweaking when the time comes.
S2X compared to A77X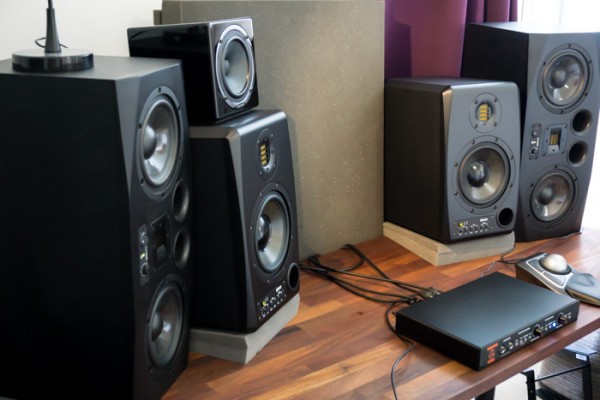 While the vibe of the sound with S2X is similar to the A77X, I am now hearing more detail in the music. It was immediately apparent, but here are the main differences to me after having used the speakers for a few months now:
It is easier to hear small changes and nuances in the dynamics. Besides providing better dynamics for normal mixing situations, it also helps for example when testing different compressor plugins to learn about their unique characteristics. The differences between different plugins and settings are easier to hear.
Distortion is easier to spot. I have become especially careful when adjusting limiters now, because with the S2X you really hear the precise point where the sound begins to distort (and it's often sooner than you would like to think).
Dialing in more gentle saturation and harmonics is easier too.
The imaging and depth in the stereo field is better. Some of this is also due to the fact that with the S2X I am now sitting in the sweet spot (unlike with my previous speakers which were too big for that given my room).
The bass feels a bit more solid and precise on the S2X to me. They have a slightly bigger woofer compared to the A77X, and the woofer is made of different materials. The A77X on the other hand with it's 3-way design has dedicated bass and mid woofers which also helps in clarity and precision.
The A77X has power switch and volume control on the front panel, where as the S2X also has EQ adjustments – very convenient.
Finally, there is of course a big difference in the price. Thomann (who probably have the cheapest prices in Europe) are currently selling the S2X for 1599€ per piece. The A77X are 877€.
The S2X are surprisingly heavy speakers, weighing in at 10,8 kg / 23.8 lb each. That's just 2 kg short of the A77X which look considerably bigger from the front. But the S2X are 4cm (or 1.5″) deeper, which (correct me if I'm wrong) together with a larger woofer could also contribute to the bass response.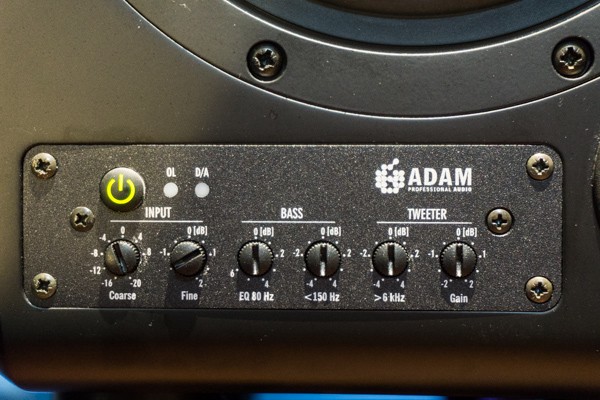 Adam S2X Tech Specs
Here's the key tech info. You'll find the full Adam S2X technical data sheet here.
Woofer
Basket: Ø 7.5″ (186 mm)
Voice coil: Ø 2″ (50 mm)
Cone material: HexaCone
Amp type: PWM
Amp. power RMS / music: 250 W / 350 W
Tweeter
Type: X-ART
Diaphragm area: 4 inch² (2420 mm²)
Equiv. Diaphragm: Ø 2″ (56 mm)
Velocity transform ratio: 4:1
Diaphragm weigh: 0.17 g
Amp type: A/B
Amp. power RMS / music: 50 W / 100 W
Inputs
Analog: XLR
Digital (optional): AES/EBU / SPDIF / word clock
General
Frequency response: 35 Hz – 50 kHz
THD > 80 Hz: ≤0.8 %
Max SPL with sine wave acoustic 100Hz to 3kHz at 1m: ≥110 dB
Max SPL per pair at 1m: ≥120 dB
Weight: 23.8 lb (10,8 kg)
Height x Width x Depth 14.5″ (370 mm) x 8.5″ (220 mm) x 12.5″ (320 mm)
Warranty: 5 Years
Adam S2X Review – Conclusions
The Adam S2X are an absolute joy to work with. The speakers are very good at pronouncing nuances with dynamics and revealing the smallest distortion and harmonics, among other things. They give out good depth of field and are excellent for getting small details right while producing and mixing. They are also doing a good job for me when I do mastering. They are serious tools designed for demanding work.
It's also a pleasure to just listen to music with the Adam S2X monitors. Their sound to me is full-bodied, well balanced and not fatiguing at all. This is similar to what I've come to expect from my previous experience with the Adam AX series speakers.
Additionally I very much like the design of the front panel of the speakers. The on/off switch, volume and EQ compensation adjustments are available right there.
There are undoubtedly other good options for monitor speakers within the same general price point. But I would think it's pretty hard for anyone to go wrong with the S2X.
If the S2X are out of your budget, I can safely also recommend the A77X (if you have room for them) or the A7X for serious production work without any reservations.
Fully recommended!