You know, there's a reason why drums sounded so good on a lot of tunes recorded in the 90's…
The audio we work with these days is typically 16 or 24 bits.
16 bit audio signal has 65536 different measurement levels or "steps".
24 bit – over 16 million levels.
Now let's take, for example the E-mu SP-1200. One of the most popular samplers around in the mid/early 90's.

The SP-1200 has been used by loads of people – Beastie Boys, Dr. Dre, Roni Size, DJ Krush, Pete Rock, Todd Terry, Madlib, Freddy Fresh, Daft Punk, Phil Collins and The Prodigy to name a few.
12 bits.
A lot of samplers back then had 12-bit AD/DA converters.
(Anything with 16-bit converters was ridiculously expensive around the time.)
The amount of signal measurement levels in 12 bit audio?
4096.
That's a whole lot less than 16 million.
Did these 12 bit beats sound millions of times worse?
Some would argue it's quite the opposite.
The sound of SP-1200 is often described as big, heavy, punchy, warm…
You see where I'm going with this?
The fidelity of sound has increased and recordings today are more accurate than ever. But we've lost some of the character we love on the way.
More is not always better!
But check this:
A bitcrusher plugin allows you to dial back the bit depth of a track to bring back some of that grit and punch that was lost along the way.
It's almost like having a time machine.
Try it on your drums. See how it sounds on everything else, too.
It might surprise you how it can make a lot of things sound fatter.
Before you get the wrong idea though…
I ain't saying you should bitcrush everything like a madman.
Apply where appropriate – take the best of both worlds.
Of course using a bitcrusher plugin is not even nearly the same as a real SP-1200, either.
There's much more to it:
The SP-1200 sports a hefty sampling rate of 26.04 kHz, and the analogue circuitry brings unique depth and color to its sound.
If you want the real deal, you could hunt one down on Ebay – if you get lucky it'll set you back about 1500 £.
OR (hot tip alert) you could grab these two FAT collections of drum sounds by Gold Baby, for fraction of the price: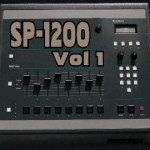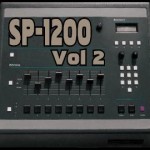 I've only just discovered these myself and you can be sure to be hearing these drum sounds in my upcoming material…
Classic drum machines sampled into the E-mu SP-1200, and recorded back with 24-bit precision – ready for the jam.
Thousands of individual hits from 606, 707, 727, 808, 909, LM1, LM2, DMX and more…
Gotta love that.
Listen to the demos here:
(The Vol 2 is my favourite…)
They've even thrown in the legendary SP-1200 groove templates as MIDI files.
So you won't only sound fat like Mr. Rock, but also swing like him.
Armed with that stuff I expect to stand out from all them posh digital kids like a fart in the wedding service..
Just letting you know in advance.. It was me!
(I'll still give the lady next to me "the look"…)
Anyways, let us dial the time machine and learn a lesson from the past…
Check this out: