I'm often asked what master plugins I use on my main output channel when working on music.
Let's take a look at a typical setup and what I do with those bad boys…
Please note: These plugins can be used as mastering plugins. However this post is not about a mastering situation. These plugins are what I use on the master output channel during the production and mixing process.
A Warning About Master Plugins
The master output channel is where everything comes together. You must be extremely careful with what you do on there. It's easy to ruin your entire mix. It only takes one careless setting. So please be careful with the information on this post. Be gentle and apply only what you fully understand. Don't hold me responsible for ruining your mixdowns. 😉
Right, let's get to it…
Satson Buss
This is the first instance of my master plugin chain. It's the bus part of the Sonimus Satson plugins (the channel plugin goes on the individual channels).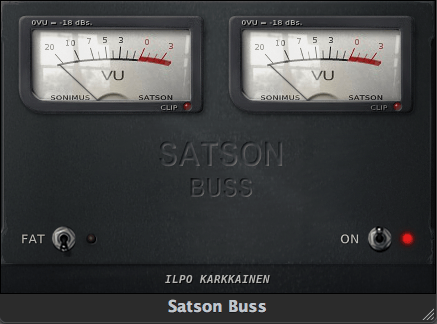 I always have it on.
It does two things for me:
1. Adds very subtle but nice console emulation to the sound.
2. Forces me to maintain sensible levels with the individual channels of the mix (the bus will saturate if I go overboard). This way I don't fall in the vicious cycle of making everything louder little by little and finally losing headroom.
It has an optional fat mode which sounds a bit more aggressive and starts to saturate more easily.
FabFilter Saturn
Saturn is one deep plugin. It's a distortion/saturation plugin with tons of great features such as:
12 distortion modes (everything from a clean tube to screaming guitar amps)
Multi-band processing (up to 6 bands)
Per-band drive, mix, feedback, dynamics, tone and level controls
Per-band solo and mute options
Optional HQ mode (8x oversampling)
Mid/side processing
Dynamics processing
Extensive modulation options
Great and well thought out interface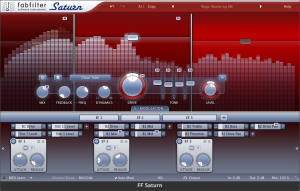 What I like about it most of course is how it sounds. The different distortion modes are well modeled and faithful to their role models.
I use it to add a tiny bit of spice to the mix. Depending on the track I usually tend to go for either the tape or the valve mode for most bands. What's beautiful though that you can choose to use tape for the bass and valve for the rest of the bands, for example. Combine the different modes in any way you like.
A word of warning though: Saturn is one of those plugins that definitely have the potential to make things worse on the master channel. But used wisely it can really take things to the next level.
PSP Neon HR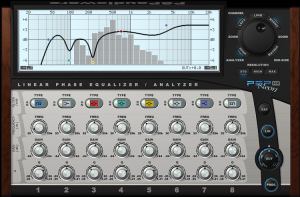 I don't advice using an EQ on the master channel of a finished track. It is much better to fix things in the mix, and leave the EQ to the actual mastering.
Why the Neon then?
Well, sometimes while working on the mix it's nice to run some quick tests to see what a little bass boost would do to the tune, for example.
For this I use the PSP Neon HR. It's a high resolution linear phase equalizer plug-in that offers eight bands of equalization, each of which can be assigned one of seven filter types.
It has a nice clean interface, a little built-in spectrum analyzer, M/S processing and some innovative features such as frequency and overtone hunting modes to speed up the workflow.
PSP Xenon
The Xenon is a nifty limiter plugin that does everything you would expect a mastering limiter to do. Once again I really appreciate the clean layout and good metering on this one. With limiters it's essential to see exactly where you stand at all times.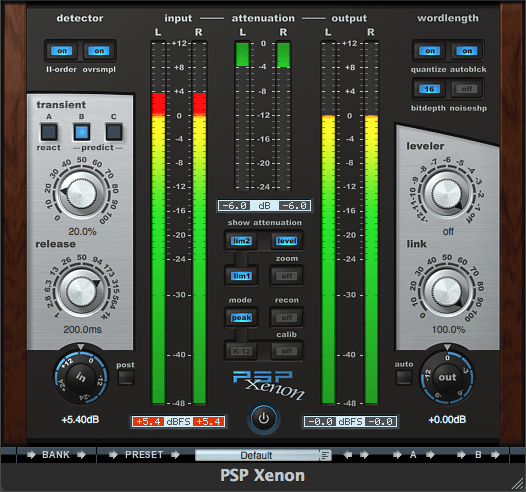 On a side note: I don't advice mixing into a limiter. I have it on bypass and only turn it on at points during the mix to give me an indication of how the tune would sound when pushed into a limiter (which is going to happen eventually).
Voxengo Span
Last but not least we come to the most important tool on my master channel – Voxengo Span.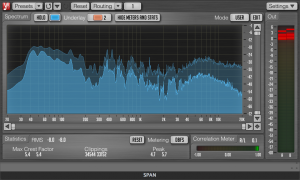 Span is just brilliant. I use it for a few different things:
1. Spectrum analysis
The spectrum analyzer has a ton of options to adjust it exactly like you want it to look and behave. I hate how most spectrum analyzers have tiny displays. Defeats the purpose doesn't it? With this one you can adjust the window and make it exactly as big as you want. Maybe I'm just getting old but I just love that feature… You can also adjust the range, accuracy, metering modes, colors – pretty much everything really.
2. Loudness metering
The loudness metering on Span is also very cool. Span has a hidden feature called "density mode" which you have to switch on in the settings. This makes the loudness meter behave in a bit unorthodox but extremely informative way. In density mode it still does show the usual average loudness level, but more importantly it displays the average dynamic range. This is VERY useful in estimating how loud the tune really is and how much more it can be pushed.
3. Stereo correlation metering
On top of all that Span also has a stereo correlation meter. It's a great thing to have as it removes the need for having a yet another plugin for that on the master channel. And it's just nice to have that on the same interface with the spectrum and loudness meters.
Best of all, Voxengo Span is FREE. For a plugin of this caliber, that's just madness and you would be a fool not to make use of the offering!
You can download the Mac and PC (AU and VST) versions on the Voxengo website.
What are your favorite master plugins?
What kind of go-to VST or AU plugins do you use in your master channel? Anything I'm missing out on? Drop a comment and let us know.