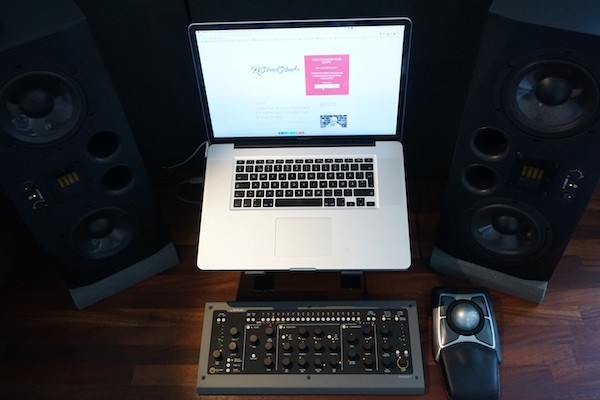 The Softube Console 1 has greatly intrigued me ever since it first came out in early 2014.
Part of the fun in making music for me is honing my workflow and experimenting with different tools and processes.
The Console 1 is a new generation mixer that combines hands on workflow and analog modeled sound with software that integrates neatly into your DAW.
How would the Console 1 work for an electronic music geek like myself? I decided to jump in and find out.
I requested a demo unit.  Softube didn't muck around – the unit was in the mail the next day!
My Backstory
I love getting my hands on the music – I think that is one of the key elements that fuels our creativity. But I also love the convenience and flexibility of software and working in the box.
Because of that I've found myself working less and less with hardware in the past 10 years. All along I've been waiting for genuinely useful hybrid solutions to arrive. Products that would fuse the hands on experience with modern ITB software workflow.
In other words: I want best of both worlds!
The NI Maschine finally did it for me when it comes to making beats. But for mixing type work nothing has really worked for me so well yet.
I've tried a couple of different controllers for mixing – even a motorized fader unit – but while the ideas have been great the execution never was good enough for me. To be fair, it is no simple thing to create a product that accommodates so many different concepts. There are a lot of technical and compatibility issues to defeat and people have different workflow preferences, too. 
In any case, these "hands on" mixing experiments have never worked out well for me so far. I always found myself going back to my old ways: using the computer mouse and keyboard for everything.
So this the backdrop and my starting point as I began test driving Console 1. I am an optimist, but I've been disappointed before so I definitely wasn't expecting the world.
About Softube
Softube are a company from Linköping, Sweden. They are probably best known for their extremely good analog modeled plugins, some of which I own and am a big fan of.
In the past Softube have partnered with companies such as Tube-Tech, Summit Audio and Abbey Road Studios to create accurate modelings of many classic hardware units.
For the Console 1 they have partnered with no other than SSL – a creator of legendary mixing consoles.
The Concept
Here's a quick 1 minute video up about the basic concept of Console 1. I suggest you watch it first if you're not already familiar with how it works.
To put it very simply:
Think of Console 1 as a channel strip plugin with a hardware controller.
The channel strip has 5 sections:
Input section with gain, phase invert, high cut filter and low cut filter.
Shape section with gate and transient enhancer.
Equalizer section with a 4 band EQ.
Compressor section with standard controls and dry/wet knob for parallel compression.
Output section with saturation, pan and volume controls.
In addition you have several buttons for selecting different channels, solo, mute, group controls, copying settings between channels and so on.
The order of the main sections (Shape, EQ, Comp) can be switched freely directly from the hardware unit.
The unit also features LED metering to indicate the position of the knobs, engagement of several buttons as well as input and output gain.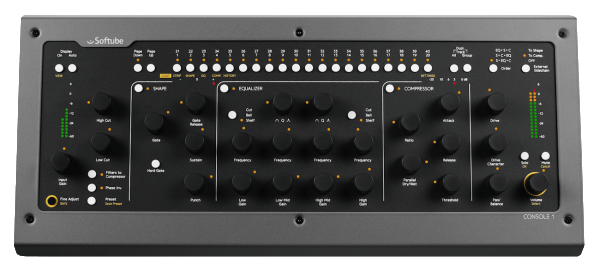 It's quite simple, really. There is no DSP processing going on with Console 1. That is all taken care of by your CPU.
Softube have worked together with Solid State Logic in order to model two of their consoles for the Console 1.
Console 1 ships with model of the SSL 4000E console channel strip – a classic mixing console first introduced in 1979.  The 4000E is an industry legend that really shaped the way that music sounds. It is slightly gritty, aggressive and punchy by nature. It has been used on so many iconic records it would be pointless to even try to list them.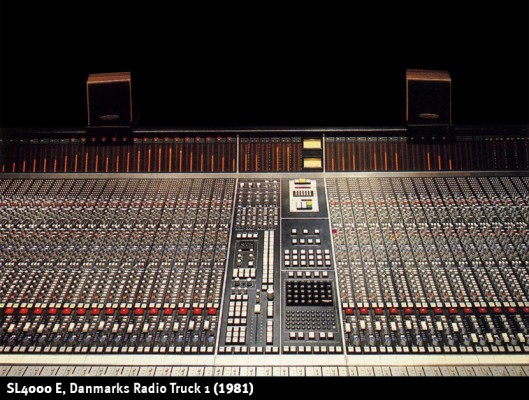 Softube and SSL have also modeled the newer, SSL XL 9000K console which came out in the mid-90's. Compared to the 4000E, the XL 9000K is smoother, cleaner and more modern sounding. It is being used on a lot of modern RnB and hiphop records as well as classical music. The XL 9000K doesn't ship with Console 1 – you have to buy it separately.
The Hardware
The Console 1 hardware controller attaches to your computer via USB. It is also USB-powered so there are no other cords clogging up the workspace.
The unit has a very hefty construction. According to my old kitchen scale it weights a little over 2kg (4.4 pounds). It's a metal casing with a hard plastic faceplate and very solid feeling plastic knobs.
Unlike some other controllers out there, the Console 1 feels like it's built to last. I love that.
There's no glossy stuff that leaves fingerprints either.
When placed on the desk the unit stands slightly angled towards you, which is good. My only gripe about the design is that I wish there was a way to adjust this tilt angle. The angle is probably perfect for a taller person (or for a lower desk), but I found myself wanting to tilt the unit a bit more (I am medium height). This is a minor thing though and easy enough to fix with some MacGyverism.
All in all the design of the unit is slick and smart with a top notch build quality.
The Software
The Console 1 main software is a stand-alone application that runs the on-screen display. It shows you what is going on and moves data between the hardware controller and your DAW.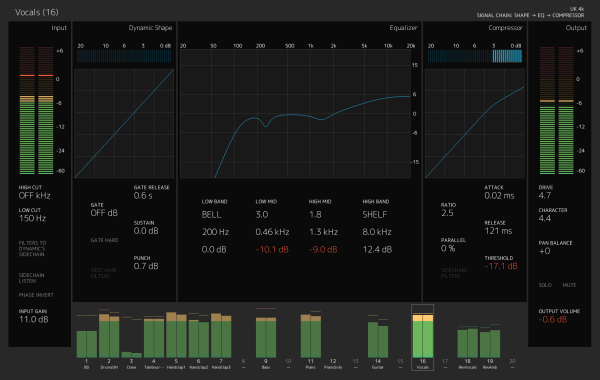 In addition, a VST/AU/AAX plugin is required to be loaded on each channel of the project inside your DAW. This makes it possible for your DAW to talk to the Console 1 main software. If required, you can also adjust the Console 1 parameters from the plugin. This makes it possible to make adjustments to the mix even if you don't happen to have the hardware unit around.
My initial fear (based on earlier experiences with other controllers) was that this kind of 3-way integration (DAW-software-hardware) could potentially be a major source of problems.
Turns out I was wrong! On my system the integration works very nicely. During the 1 month of testing Console 1 did not crash on me once (my system specs: Macbook Pro mid 2010, 2.66 core i7, 8GB RAM, OSX 10.8.5, Ableton Live 9.2, Pro Tools 11.3.1).
Cpu Hit
Having to load up lots of plugin instances naturally raises the question… What about the CPU hit?
The Console 1 is designed so that the plugins and the system itself barely take any system resources when idle. The CPU hit only begins to happen when you begin engaging the different sections of the channel strips (the EQ's, compressors and so on).
This modular design helps to conserve CPU power. If you're not using the compressor section on a channel, it won't be using any CPU even though the plugin itself is active.
In this respect the CPU hit of Console 1 can be compared to using any other plugins. It doesn't use CPU resources by itself, but the more stuff you have engaged, the more it will hit the CPU.
If you have EQ, compressor, transient and saturation sections running across your mix on all channels – sure you're going to be seeing a CPU hit, but the same goes for any other plugins.
In practical terms: Using my 5 years old Macbook Pro in a real mixing situation I was able to get away with about 20 channels of Console 1 and some other plugins. After that I began to experience increasing lag between twisting knobs and hardware and the response time of the software. The sound was still fine though, but the lag did get pretty heavy eventually.
It has to be mentioned that I tend to keep my projects fairly minimal so I don't often have to go beyond 20 tracks in a mix in any case. For the most part I was just fine with Console 1, but for someone else it could be a limitation.
Bottom line:
If you are running an older computer, you should be cautious. Depending on the channel count of your projects you may not be able to run Console 1 smoothly.
With a more recent computer, I don't expect you to have to limit yourself because of the CPU hit any more than using any other similar plugins. From what I can tell and from what I know about Softube, their code seems to be well optimized and efficient.
Workflow
When I started trying Console 1 out I wasn't sure if it would fit in to my workflow.
Workflow is a very personal thing, but let me explain how I ended up integrating Console 1 into mine. Hopefully that will at least give you some pointers when you think about yours.
I work in two phases: production and mixing. I use Ableton Live for the creative production phase of making music. When I feel the project is good enough musically, I take it to Pro Tools for final editing and mixing.
The Ableton side of things did not work out that well for me with Console 1. I pretty quickly found out that the best time to kick in the Console 1 is when I go to Pro Tools for the mix. 
The only reason preventing me making full use of Console 1 while in production stage is this:
The channel selection in Console 1 does not follow the channel selection in your DAW. They are both independent.
Softube told me they are researching ways to solve this, but as it is an issue with the hosts it requires deeper collaboration with the DAW manufacturers.
The missing channel selection linking doesn't bother me so much when I am in the mixing stage of the project when the session has a clean layout and I know what's where. But in the creative stage of the project my layout is in constant flux.
A lot of duplicate and empty tracks are getting created one moment and deleted the next, ideas are flying in and out, I am rapidly jumping back and forth between channels and everything is not always named properly. So even though I do some up keeping, my session is often times a bit of a mess. And in those times it's hard to keep track of which channel I have selected within the Console 1 interface when the DAW is not automatically displaying the same track.
In practice this means often pausing for a bit when switching tracks to figure out where I'm at, which I really don't want to be doing when I'm working.
So pretty quickly I ended up just not using Console 1 in the production phase of the track and instead just load it up when I began mixing.
This might sound counterintuitive at first but it actually worked really well for me.
I always make sure the mixing session is well laid out and structured before I begin working.
And this is where Console 1 really became a home for me. As soon as I started mixing with it, it was pure joy!
I set up Console 1 as the first insert on each channel of the mix. This allows me to very quickly set up the gain staging for the project and then dial in all the basic processing for each channel.
I am using the output volume knob on the Console 1 to match volume with the input. This allows me to do reliable before/after comparison by bypassing the Console 1 plugin.
From there, I mix as usual. Other plugins can be inserted after Console 1. And I'm using the volume faders of the DAW to control levels as usual.
Pretty soon it was evident that getting a basic mix together with Console 1 happened a lot quicker. Also the end result sounded better than anything I had done before.
With the first (and maybe even the second) track I mixed I was willing to blame good fortune for these results. Sometimes things just click, right? But when the third and fourth tracks I mixed also came out very swiftly and sounding clearly better than what I had achieved before… I had to admit it: it's a winner!
It's great having all these controls at your fingertips at all times. I tend to use the gate and transient shaping tools a lot more just because they're there, for example. That has definitely improved my mixes.
With the latest update to the Console 1 software, Softube also added a spectrum analyzer for the EQ. I like it a lot for spotting and clearing low end rumble. If you rather not have the analyzer there, you can switch it off.
How would I sum up this section? Probably something like this:
Workflow is a very personal thing so I would highly suggest you to try the Console 1 out first before committing to it, if you can.
For me it works great, but that doesn't mean it suits everyone.
Sound
I have never had the chance to work with a real SSL desk so I'll leave that comparison to others. But I'll give you my impressions on how the Console 1 sounded like to me.
I did the majority of my testing with the SSL 4000 E model that comes with Console 1. I also demoed the XL 9000 K (which you have to buy separately). Both sounded great and if you have both you can mix & match freely within a project.
Here are the main differences between the two models:
The 4000 E EQ is more aggressive. The XL 9000 K EQ sounds more open and smooth.
The 4000 E has more inherent character (distortion), where as the XL 9000 K is very clean.
The real XL 9000 K is so clean it doesn't really have saturation of it's own. But Softube have modeled the Variable Harmonic Drive from SSL's Duality console for their version. So it gives a different character than the 4000 E.
The gate section on the XL 9000 K is more extensive, but it doesn't have the transient control functions which are featured in the 4000 E version.
The compressor on the XL 9000 K can be switched between Peak and RMS operating modes.
All in all I love the way Console 1 sounds.
The high and low pass filters in the input section do exactly what they're supposed to.
The transient section is great to have. The controls are a bit limited but it works well for many situations. I still went for different transient plugins from time to time – different tools for different situations.
The EQ on the 4000 E I think strikes a good balance between transparency and character. You can do small balancing with it but you can really hit it too if you want. It's great for the type of grity, punchy music that I do. The XL 9000 K EQ is something I would use more on cleaner stuff like RnB, classical or working on film sound.
The compressor is great! It works great on electronic drums especially. Often times on the 4000 E it gave me great character and punch even with poor quality material when I wasn't really expecting much.
The drive sections are great for adding some of that non-linear analog mojo into your mix. There is nothing wrong with the 4000 E drive, but I did like the VHD in XL 9000 K even more. It sounded to me more defined.
Expandability
Softube's other (excellent) EQ's and compressors can be loaded into Console 1 to replace the existing SSL ones. It works on a track-by-track basis. This is a great bonus for those of us who already own other Softube products or are looking to get some.
The amount of knobs on the hardware unit do limit the functionality in some cases though. But with my beloved Valley People Dyna-Mite compressor I actually noticed the opposite: I had access to the dry/wet mix knob in Console 1's compression section (dry/wet mix doesn't exist on the plugin originally).
Softube have announced there will be more console models coming as paid add-ons for Console 1 in the future.
You're not able to use Console 1 to control other plugins or your DAW via MIDI. I asked Softube if there are any plans for opening it up for MIDI control in the future. Their outlook was clear: that would defeat the purpose. From a business perspective I can understand where they're coming from. As an user though, I still think having an option to switch in to MIDI mode would be very useful.
Price
Currently (July 2015) Console 1 sells for about 800 EUR in Europe (569 GBP) and about 1000 USD in United States.
It seems like a lot on first glance. After having used it for a month, do I think it is a fair price? Yes.
Consider for example that the Waves SSL collection sells for 750USD. With Console 1 you get the SLL modeling and much more importantly, you get the hands on workflow.
The hardware unit is well constructed. It's a tool made for serious work. That naturally bumps up the cost, but personally I much rather pay more for quality, than less for something more flimsy.
Pros & Cons
Time to weight in the pros and cons!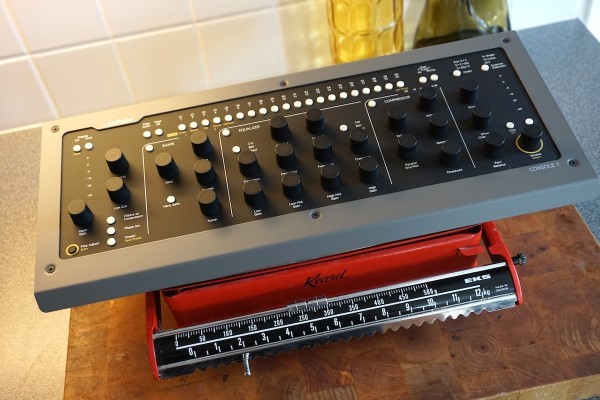 Pros
The hands on feel is well executed.
It sounds great.
Makes my mixing a lot faster.
I like the solid build and clean design of the hardware unit.
If you own other Softube EQs or comps, you can run them in Console 1.
Cons
No channel selection linking between Console 1 and your DAW.
The LEDs on the hardware unit could be a tad brighter. Adjustable brightness would be ideal.
It would be cool to be able to adjust the tilt angle of the hardware unit.
A full bypass option on the hardware unit would be nice (the unit has bypass switches for Shape/EQ/Comp modules individually). Right now you have to bypass the Console 1 plugin instance from inside the DAW to achieve that.
If you have an older computer you might run into CPU issues. My laptop is an i7 from 2010 and for the most part I was ok.
Not possible to use as a MIDI controller to control other software.
Softube Console 1 Review: The Conclusion
There are a lot of great sounding EQ's, compressors and console emulations out there.
Console 1 definitely stands proud in that crowd sound quality wise. But it's real power comes from bringing the hardware workflow into the digital realm.
I very much enjoy the hands on feel of working with Console 1. I think Softube have nailed that aspect.
For some people, the missing channel linking between Console 1 and your DAW could be a deal breaker. This depends on how you like to work.
Working with Console 1 definitely gave me a more instinctive connection and feel for the mix. That is exactly what I'm always looking for.
I especially like dialing in the EQ using my hands, being able to adjust several controls quickly and try different combinations.
Now that my demo has expired, I do miss using it quite a bit. If I was better off financially right now I would not think twice about buying it. I think that says enough!