While we are still impatiently waiting for Logic 10… Here's something to ease things up a bit.
Feast your eyes on this: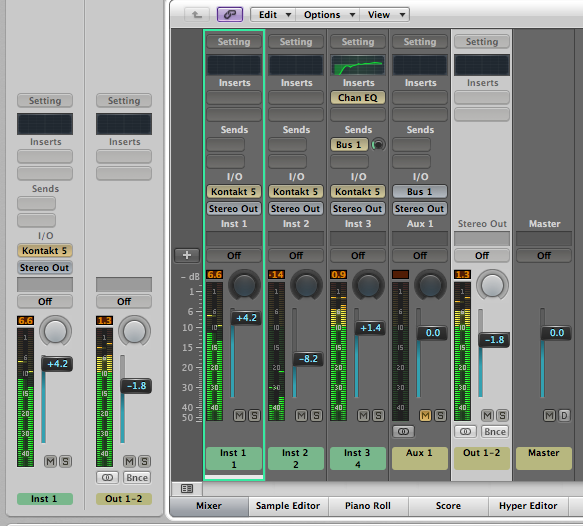 I recently came across this wicked Logic GUI mod by Ampguimods.
Best of all it's FREE.
I've been testing it for a few days now and it works beautifully.
Here's the thing:
Not only does it look good but it also gives you better metering.
Installation
First of all: the mod is made for Logic version 9.0.2 but I've installed it on my 9.1.7 and it works fine here.
The installation is easy. You should not touch your original Logic file though – remember to make a duplicate.
This way your original Logic remains there untouched and you're completely safe.
You've been warned – don't hold me or the developer responsible if something goes wrong!
Head over to Ampguimods to download (there are actually a few different ones but I've got the ampgui v2 one).
Here's a step-by-step guide for installation (also provided with the mod download):
Make a duplicate of your Logic app (command-D).
Rename the duplicate to something like "Logic Ampgui Mod".
Right-click on the app duplicate, choose "Show Package Contents".
Open the "Contents" folder.
Copy the provided files into the "Resources" folder, replacing previous files.
That's all there is to it!
One more thing:
The mod only works in Sectional dB-linear metering mode, which is not a big loss as I greatly prefer that over the exponential metering mode anyway.
In case you're not using linear metering mode yet, you have to switch to it inside Logic.
You do that by right-clicking on the -dB scale in the very left side of the mixer screen.
Happy modding… And if you like it – feel free to make a donation to the developer at Ampguimods website. I think it's well deserved!