I've used many different DAWs in my 20 years of making electronic music.
These days I mainly use two different ones: Ableton Live and Pro Tools. It often confuses people to hear I am actually using both DAWs to work on the same piece of music.
I get asked about why and how I do that sometimes, so here's a few words about the process (thanks to Matt for bringing it up last week).
The Quick Answer
I like to split each project into two different phases: the creative phase and the final mix phase.
I like to create in Ableton Live and mix in Pro Tools. I don't always do this, but most of the time I find it's beneficial to go out of Ableton Live for the final mix.
Why not just do both phases in Live? There are two main reasons:
1. I think Ableton Live is lacking some robust mixing and editing functionality. On the other hand, robust mixing and editing is precisely what Pro Tools excels in.
2. Committing to audio and switching DAWs for the final mix refreshes my perspective and helps me stay more objective.
Let me elaborate on these points.
Pushing for the Last 10%
Disclaimer: At the time of writing this, we are at Ableton Live 9.6 and I have high hopes for improvements taking place with Live 10.
I love Ableton Live for making music. I've been using it for a few years now. I'm now armed with the excellent Push 2 controller as well, and I'm having more fun than ever before when making music.
With Live it's quick and easy to get ideas down, to experiment and to work with the arrangement. All of that is just great. I couldn't be happier when it comes to that stuff.
It's not all golden however. I switched from Logic to Live about three years ago. Since then  I have often felt like it's difficult to get my mixdowns to sound rock solid and exactly how I want them. It was always hard to pinpoint what it is exactly, but at the last stages of a project it often feels like there is something missing. The sound of the mix just isn't coming together as well as I think it should.
This has gotten better as I've gotten used to Live throughout years. But I still often feel that I'm unable to get the last 10% of the mix right when finalising a project in Live.
I didn't have that problem in Logic. It just happened so that I would more often naturally drift to a point where I felt things are sounding like they should.
There's been a lot of talk online about things like differences in summing and sound quality between Live and other DAWs. There could be some truth to that, but I am not sure if differences exist anymore to a relevant extent. There's definitely some placebo involved also.
I'm inclined to think that at the moment for me it's mainly an issue with workflow and available features and functionality rather than anything else.
What I know for sure is that in any case this two-DAW approach works very well for me. It brings me good results and that is what counts.
There are times when things do come together nicely in Live and I don't feel the need to take the extra step of moving into Pro Tools for the final mix.
Moving to a different DAW when you are very close to nailing the mix inevitably shakes the delicate balance of the mix and can make it worse in the end. It has happened to me a few times. I try to be aware of that.
But whenever I end up having problems and get stuck with the mix in Live, I will take it to Pro Tools. This has proven to be a great solution for me.
Shortcomings in Ableton Live
For me Live's shortcoming as a serious mixing environment mainly comes down to a lack of dedicated mixer view. There are many other things where Pro Tools has the upper hand too. But the lack of proper mixer view in Live is the big one for me.
I want to be able to see and operate an overview of the entire mix with all of the plugins visible at once. Right now in Live we have to activate a track in order to see what plugins it's holding. That slows things down a lot and clouds our mental overview of the session.
I know there is an experimental workaround, but it's buggy and limited. I would much rather have a third view added to the existing Session and Arrangement views: a solid mixer view where you would have an overview of the entire session and where you can quickly organize things and operate on groups of plugins, for example by adding/removing/bypassing plugins on several tracks at once.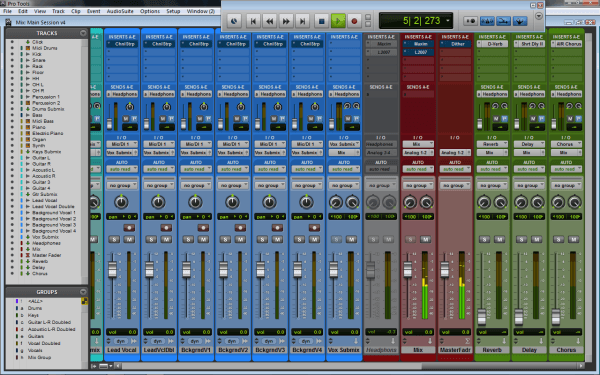 Logic also has a decent mixer view. Since Logic is what I had be using for 10 years, I first began taking the mix to Logic once I felt I had taken a project as far as I could in Live. But I knew Pro Tools would be even better.  After demoing Pro Tools for a bit I knew there was no going back. So I took the plunge and invested in it.
PT is built from the ground up for working with audio (but can also do MIDI and virtual instruments if needed), and their long history in that department shows.
Here are some of the other shortcomings I feel Live has compared to Pro Tools:
I like how in Pro Tools you can set up the layout of your session in any way you like. In Live you are tied to having the master and return channels fixed at the right side of the screen.
The Pro Tools way of freely setting up different kinds of mix groups would also be welcome in Live. Especially with larger sessions. The current grouping function in Live is really just routing. Routing and mix groups should exist separately.
I would also like to see improvements in the audio editing workflow. Live does a lot of things well there, but there is also a lot to learn from Pro Tools in that department.
For a long time I've also been wishing for better channel metering. The new combined Peak/RMS metering in Live is just great and a big step into the right direction. It shows that Ableton are paying attention to user's needs. Now we just need adjustable metering scales (again a feature Pro Tools has) and we're great when it comes to channel metering.
There would be many more things to list, but it doesn't serve the purpose of this post to go into it any further. To put it simple:
For me Pro Tools is currently competing in it's own league when it comes to robust mixing workflow and editing features.
Let's now take a closer look at the second reason for my two-DAW-approach.
Maintaining Perspective
I began using my two-DAW-approach purely because of the reasons stated before. But since I started doing it I have discovered something interesting.
The acts of committing to audio at the end of the creative phase and switching to a different program to finish the mix are helping me to see and hear the project with a clearer and refreshed mind.
It brings back some of the objectivity that inevitably gets lost on the way when working on the same piece of music for hours or days.
Starting the final mix from a clean slate stops me from fiddling with irrelevant stuff. And it allows me to make better decisions and helps figure out what the project really needs to make it sound better.
Knowing that there will be a dedicated time and place for tweaking the fine details helps me in the creative phase of the project. I don't as easily get stuck micromanaging details when I really should be focusing on musical ideas and the big picture.
It can be very powerful. Try it out. You don't necessarily have to use two different DAWs to experience many of these benefits either. You can simply bounce all tracks to audio and start a fresh session for the final mix.
The Takeaway
There is one final and very important consideration to bring forth here.
I wrote this post to illustrate my personal workflow. I didn't write it because I think everyone should do things the same way. My way of doing things might not work out for you at all.
Your workflow should depend on your personality. This post simply states what works for me at this moment. I don't even know if I will still be doing things the same way a year from now.
The bottom line is you should find your own way of doing things. Explore different ideas. Evolve what is already working for you. Go with what feels right (as opposed to what someone says).
DAWs are nothing but tools. They all have strong and weak points. It's up to you to discover what tools work for you best.
If you found this post interesting, you might like to know that I have been working on an ebook about my mixing process. It will include a lot of practical stuff, but also talk about concepts behind my mixing and music making philosophy.
Let me know in the comments if you have any further questions.