My quest for the best mix bus compressor plugin is neverending. I have spent countless of hours reviewing and testing different plugins. Here are my picks for the best bus compressor plugins in 2019.
There are a lot of plugins covered in this article and related video so let's address one question first up: Do you have to have so many? Of course not. I've accumulated a lot of plugins over the years. Many of them I've bought but I also get a lot of plugins for free. I do my own music, but also mixing and mastering work for others. I need different types of tools for different situations.
In this review, I'm presenting you the mix bus compressor plugins I like and use. But please do not feel like you need to get a ton of different plugins in order to get good results. Take a look at what is available. Demo different products. Think about your needs. What kind of sound you are looking to achieve?
Are you consistently working with the same type of material? You might only ever need one good mix bus compressor plugin. In any case, the key is to test it for yourself.
These Are The Best Bus Compressor Plugins in 2019
For your convenience, here is a list of all of the chosen plugins. Continue reading for the blog post and video below.
---
Softube Valley People Dyna-Mite
Starting off with something a little bit controversial! I am the first to admit that The Softube Valley People Dyna-Mite is not what most people would consider a mix bus compressor at all. It's an aggressive compressor. Like, it can make your music sound as if it was glued in your face, with some duct tape wrapped around your head. Treat this compressor the right way though, and you have bucketloads of tight goodness at your disposal.
The Valley People Dyna-Mite is the mix bus compressor I chose to use for a large collaborative project I'm currently working on. The project called for some serious smack and glue. The Dyna-Mite helps give all of the music a unified character. I ended up with this compressor after testing all of the plugins mentioned in this post (and many more). That should say something.
Valley People Dyna-Mite used to be just one plugin, but it now comes with three different plugins:
Valley People Dyna-Mite (compressor/limiter/gate/expander)
Valley People Dyna-Mite Gate
Valley People Dyna-Mite Slam (pictured above).
The new "Slam" version of the plugin has two crucial things that the original version of the plugin lacks: a dry/wet knob and a fast/slow attack switch. These features make all the difference when working on the mix bus. I love the interface on the Slam version, too.
Beyond mix bus use, Dyna-Mite offers a huge amount of creative possibilities. And whatever you decide to do with it, the plugin will deliver when it comes to sound.
Softube Valley People Dyna-Mite Tips
The wet/dry knob is your friend. I gives you the freedom to slam things to your heart's content and then back off the effect until it's just right.
Pushing the output gain to distortion often sounds very good. Be super careful with that in the mix bus context though.
The "Slow" attack time on the Slam version of the plugin is great for a punchy sound on the mix bus.
The setting I often like to use on the mix bus is "Slow" attack, fastest release, max 3 dB of gain reduction and dry/wet knob set to around 20-30%.
You can also just hit it around 1 dB with dry/wet knob set to 100%.
The manual goes to a lot of detail about the unit. I absolutely recommend reading it.
Link: Softube Valley People Dyna-Mite
---
Audified U73b Compressor
The Audified U73b Compressor is an emulation of an old German broadcast vary-mu tube limiter/compressor, the Telefunken U73b. It is one of the best compressors I've used for gluing the mix together. I also often use this compressor in mastering.
The compression action on the U73b is very smooth even on aggressive settings. It is hard to describe in words but it can give your music great breathing movement. It is not a transparent compressor at all, so as such it does not suit all situations. The U73b sounds very analog and gives you music a little bit of edge and attitude, bringing out the upper mids slightly in a very pleasant way.
Audified U73b Compressor Tips
On the mix bus, this compressor shapes the music quite aggressively even with just 2dB of gain reduction. I typically find the sweet spot at around 1dB of gain reduction.
If you have the CPU, it's recommended to switch on the oversampling mode in the plugin's settings.
U73b has two operating modes: compressor and limiter. Compressor has lower threshold and a more gentle ratio that increases with the gain reduction. The limiter mode has a higher threshold and higher ratio (still, it's not like a modern brickwall limiter at all) but still with a smooth knee.
Link: Audified U73b Compressor
---
Waves Abbey Road TG Mastering Chain
The Waves Abbey Road TG Mastering Chain includes several nice tools for the mix bus. But for this article, let's just focus on the wonderfully chunky compressor/limiter. If you want to read more about it, check my blog posts about The Best Waves Plugins and The Best Waves Plugins for Mastering.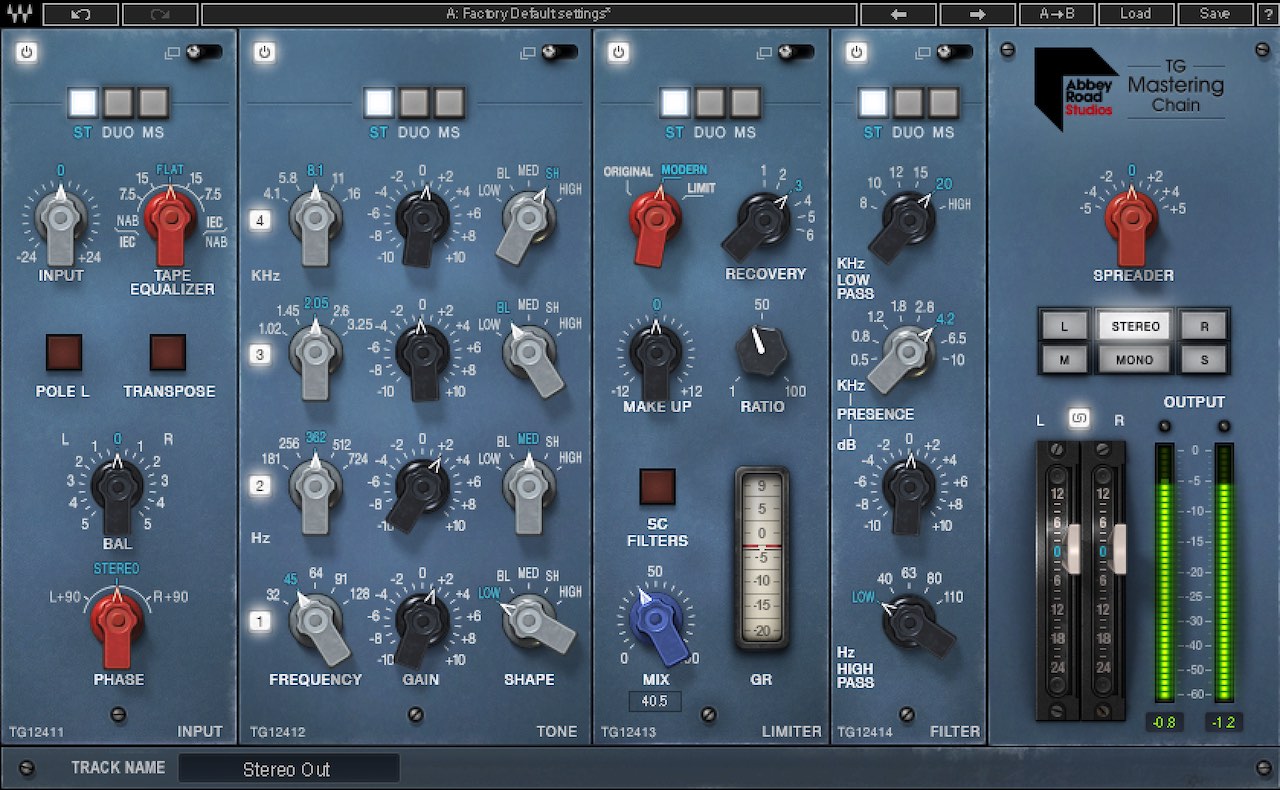 The TG Mastering Chain has been in use in the Abbey Road studios ever since the early '70s. It has contributed to the sound of countless hit records, including Pink Floyd's The Dark Side of the Moon, Nirvana's In Utero, Radiohead's OK Computer and Ed Sheeran's "+".
The compressor on the TG Mastering Chain sounds chunky and has lots of character. It has three modes to choose from, each bringing a different flavor:
There are six different settings for release time, a ratio control, make-up gain and a wet/dry mix knob. By opening up the extended control panel, you also get access to separate controls for L/R or Mid/Side compression as well as very nice sidechain filtering options.
The compression sounds smooth, solid and deep. It brings together the low end of the song and makes it sound stronger. The different release characteristics and compression modes offer plenty of options for finding just the right timing for the material. It is easy to get very pleasant movement and pumping action going if that's what you desire.
Waves Abbey Road TG Mastering Chain Tips
Personally I find myself going with the "Modern" compression mode most of the time. It works the best with the type of material I usually work with.
The Mid/Side option on this compressor is great to have. You can use it to get the center of your mix really tight without having to worry about the compressor reacting to/affecting the material on the sides of the stereo image. Equally, you could use it to clamp down or widen the stereo field. Open the extended panel (top right corner of the compression module) and learn to make use of the M/S features!
Learn to use the sidechain filtering options. The bell filter is especially nice to have for making the compressor react more on certain frequencies. The M/S functionality and the powerful sidechaining together bump up this compressor to a new level.
The output/monitoring section of the plugin has options for soloing the Mid and Side components of the material, as well as checking how your mix sounds in mono. Very helpful, especially when doing Mid/Side compression!
Remember to work with the makeup gain to keep your levels in check. You don't want your compressed end result sounding any quieter or louder than your unprocessed signal. This makes it easier to do before/after comparisons.
Link: Waves Abbey Road TG Mastering Chain
---
Waves SSL G-Master Bus Compressor
The Waves SSL G-Master Bus Compressor is a classic plugin, modeled after a classic compressor. This SSL bus compressor clone has been around for a long time but I find it still holds up nicely. There is nothing wrong with it, it can be had for a great price and it works in many situations.
I typically use this to create just a small amount of movement in the mix, barely making the needle move.
What I also like about the Waves SSL bus compressor clone is that it's very quick and easy to dial in and get a good sound going. I would not recommend paying the expensive full price for it because it's very often discounted.
Waves SSL G-Master Buss Compressor Tips
This compressor does not have a mix knob so be careful with the fast attack settings. You don't want to kill your transients. Attack settings of 10 or 30ms are the safest.
Adjust the release time so that the compression moves nicely in sync with your material, creating movement or glue.
For a more aggressive sound, bring down the attack and use a faster release time.
Link: Waves SSL G-Master Bus Compressor
---
iZotope Ozone
The iZotope Ozone is a full mastering suite brimming with useful tools. The standard and advanced versions of Ozone both come with two different compression modules: Dynamics and Vintage Compressor.
The Dynamics module is a multiband compressor that can also be used as a single band one. It is a perfectly good compressor, but for single band mix bus duty the Vintage Compressor is the star of the show.
The Vintage Compressor is a single band compressor with three characters: Sharp, Balanced and Smooth. They all sound different and good in their own right. It is super clean and easy to operate. The great metering section is very helpful also.
Ozone offers great tools for mix bus compression. The added benefit is of course that you also get a lot more for your money. The Standard version of Ozone works as a single plugin. With the Advanced version, you get that, but you also get all of the modules as separate plugins.
iZotope Ozone Dynamics Tips
Ozone offers great facilities for working with the gain. This helps to make better decisions and not cloud your judgment by volume differences. Make use of these facilities!

There is an auto-gain option above the "Gain" fader. I like to keep it on but then fine tune the gain manually.
The master section has a "Gain Match" option to further help you match the level of your processed signal to the unprocessed one.
The RMS meters will help you too, and it's nice to have precise input and ouput gain faders in the master section too.
Link: iZotope Ozone
---
Waves MaxxVolume
Don't be fooled by the ageing looks of Waves MaxxVolume. This plugin can do some seriously good things on your mix bus. It's very easy to operate and gives you clean loudness and glue on the mix bus.
The Waves MaxxVolume is quite a unique plugin in that it offers both low and high-level compression. It brings together algorithms from different Waves plugins such as the L2, C1 and Renaissance Compressor.
In a standard compression setting, any signal above the set threshold gets compressed and attenuated. With a low level compressor, any signal that goes below the set threshold gets compressed upward, resulting in an increased gain. The dynamic range is thus compressed, pushing low levels up while leaving high levels as they were.
This is a set and forget type plugin. It's very easy to dial in and quite safe provided you don't go crazy with the gain reduction.
Waves MaxxVolume Tips
I typically do only 1-2 dB of both high and low-level compression on the mix bus. This is enough to give me a nice boost in overall volume without changing the character of the mix much.
Use the bypass switches on the threshold faders to hear the difference between processed and unprocessed signals.
Link: Waves MaxxVolume
---
Waves BSS DPR-402
The Waves BSS DPR-402 is one of the newer plugins in the Waves lineup. It can sound very punchy and explosive, or you can use it in subtler ways.
This is also a very versatile plugin that can do tons of stuff from de-essing to limiting. It has several different modes accessible via the "Jumper" menu at the bottom left corner. With these modes, you can make the compressor more to lows or the highs for example.
The Waves BSS DPR-402 is a very capable compressor on a variety of situations, including the mix bus. It's fantastic value for your money if you can grab it at a discount.
Waves BSS DPR-402 Tips
You can go in very hard with this compressor and then dial it back with the mix knob. On high ratios, this compressor can sound somewhat similar to the "All buttons in" mode of the famous UA 1176 compressor.
Check out the different options in the "Jumper" menu. They will let you set the compressor to react differently to different frequencies. It is very useful, especially on the mix bus where you may not want the compressor to react to the bass too much.
The jumper options are explained in the manual so make sure to have a look at that.
Link: Waves BSS DPR-402
---
FabFilter Pro-C2
A true all in one workhorse. When I need to go clean and surgical, this is my weapon. The Fabfilter Pro-C2 has a ton of options including possibly the most fully featured sidechain filtering in any compressor plugin. It has several different compression modes including Bus but also Clean and Mastering which can also work equally well in a bus compression context.
It has great metering and visual feedback which is especially helpful for someone just trying to learn about compression. A great learning tool!
You can do just about anything with this plugin, which is also its downside. Personally I often rather reach for something quick and easy that I know will get the job done without too much tweaking.
Link: FabFilter Pro-C2
---
u-he Presswerk
The U-He Presswerk is a compressor with lots of options. It is great for someone who likes to go deep. It sounds very analog, especially when you start to hit the saturation and soft clipping the right way. It's also very easy to go overboard with this compressor.
The Presswerk has tons and tons of controls, and it's all very useful. This plugin is a lot of fun to play around with! It also has several simplified modes that hide and automate many of the detailed controls and allow you to focus on what's essential. The preset manager is very good too, complete with descriptions and a resizable GUI.
If you're after a thick and gluey analog-type sound, definitely check this compressor out.
Link: U-He Presswerk
---
Klanghelm MJUC
The MJUC by Klanghelm is inspired by variable-mu tube compression technology. It is a superb sounding plugin and bafflingly affordable (24 EUR at the moment).
It's full of features with three different compressor models and lots of bells and whistles. But the main feature is the sound which I would describe as smooth and organic.
There is also a free MJUC jr. plugin available on the Klanghelm website. It has less controls but sounds just as good.
Klanghelm MJUC Tips
Model Mk1 is based on the very early variable-mu designs from the 50s. The result is a very natural compression character with very little distortion. The arrangement of four(!) variable-mu* stages add to the incredibly dense and thick nature of Mk1. Mk1 is the most colored of MJUC's models.
Model Mk2 is built upon the more complex designs of the 175 and 176 from the early 1960s, the all-tube-predecessors of the classic 1176 FET compressor. Compared to Mk1 the second model is less Jazz and more Rock'n'Roll with enhanced generated harmonics and a more forward sounding character.
Model Mk3 is the least colored and most Hi-Fi-sounding model in MJUC. It is Klanghelm's modern interpretation of this compression topology. The compression is done by two different variable-mu* stages, which kind of work against each other, one works feedforward, while the other in a feedback configuration. This results in a attack accentuating, punchy compression, surprisingly closer to a British G type bus comp than to a 670.
Engage the HQ mode if you have the CPU. It makes modeling more detailed and precise.
Link: Klanghelm MJUC
---
Tokyo Dawn Labs Kotelnikov GE
Now, I'm first to admit that I'm biased with this one. I have been involved with beta testing the TDL Kotelnikov GE. I've also been releasing a lot of music on Tokyo Dawn Records (the label) back in the 90's! So I go a long way back – more than 20 years now – with Tokyo Dawn. However, it also means I know that TDL guys know what they're doing.
The Kotelnikov GE (there is also a free version called simply Kotelnikov) is a super modern and transparent compressor for mastering and mix bus duties.
It has a whole host of innovative features including things like equal loudness bypass and frequency-dependent ratio.
It's an advanced plugin to use and because of the unique feature set, there is a learning curve even for the more experienced guys out there. But all the information is clearly laid out for you in the interface as well as the manual.
Proudly digital, very trustworthy, great quality and affordable. Plus it comes with some presets designed by me! What more do you want may I ask?
Link: TDR Kotelnikov
---
TDR Limiter 6 GE
TDR Limiter 6 GE is an entire dynamics toolkit comprising of compressors, clippers, and limiters. I often use it for the purpose of mix bus compression alone. You can hide the other modules and just have the compression and output/metering sections visible.
The compression section includes four different compressors: Alpha, Sigma, Leveler, and Nova. For the type of music I often work with (modern drum&bass), Sigma works great.
I also love the excellent output and metering options. They are making the task at hand a lot easier.
Link: TDR Limiter 6 GE
---
UAD API 2500
This guy sounds fantastic. It's modeled after one the most iconic compressors out there and you can really hear the amount of skill and work that was put into it. It's a great compressor to use to get some thickness, movement, and glue into your mix. This is the one plugin I miss the most since I moved away from the UAD ecosystem.
I often get asked about how does the UAD API 2500 compares to the Waves API 2500. I have had the Waves one for many years but I never really got along with it. As soon as I bought the UAD one though, I was in love. To me, the two plugins are a world apart in how they sound and behave (sorry, Waves). To be fair, the Waves is also more than 10 years old. It's a complex unit to model and technology has come a long way since then.
Link: UAD API 2500
---
Vertigo VSC-2
Like the Waves SSL Comp and Slate FG-Grey, the Vertigo VSC-2 compressor by Brainworx is also a VCA type compressor.
Compared to the two aforementioned, it sounds smoother, perhaps more subtle and more full bodied in my opinion. This is the compressor I have used the most on my mix bus in the past 3-4 years.
I typically tend to use pretty low ratios and gentle gain reduction, but you can go in harder for more thickening or transient control.
Link: Vertigo VSC-2
---
The Best Bus Compressor Plugins – Video
Here is a video where I go through these compressors (and a few more) in a typical work setting!
---
The Best Bus Compressor Plugins – Final Words
There we go – a review of what I think are the best bus compressor VST / AU / AAX plugins. What are your thoughts? Do you have some different favorites? Do you have any questions about any of the plugins?
Let me know in the comments.