What are the best Waves plugins for mastering, vocals, drums or [you name it]? I get that question a lot. Waves Audio make some great VST plugins. But their catalog is huge and there's a lot of overlap. Which Waves compressor is the best? What about reverb or EQ? I created this blog post to review what I consider to be the must have Waves plugins.
Waves Audio was founded in 1992. Since then they have released tons of VST/AU/AAX plugins. There are Waves plugins for vocals. Waves plugins for mastering. Waves plugins for live sound. Waves plugins for drums, guitar, and so on. There are software instruments and utilities. With such a huge catalog it can be hard to decide which are the best Waves plugins for you to invest in.
Some pointers to keep in mind before we move forward:
Waves plugins can be great value for money on discounted prices. I don't recommend buying them at full price, because Waves are rotating discounts so frequently.
I have had all Waves plugins for many years now (I am affiliated with Waves and I get them for free). So I have pretty good perspective on their catalog.
I have tested the plugins against each other and also against many similar plugins from other companies. Obviously I can't test every plugin in the world, so please also always do your own testing!
My goal in this post is to introduce only the plugins that stand out. I won't recommend any plugins that I think other companies have done better in a similar price range (=discounted Waves prices).
My credentials, short and sweet: About 23 years in music production, 10+ years in mastering.
So in alphabetical order, this is my review of the best Waves plugins. Black Friday 2019 is approaching so make some notes for the big sale! I've includes my review about each plugin plus some tips on using them. At the end of the post you will also find a video where I demonstrate many of the plugins.
Disclosure for transparency: I'm affiliated with Waves and I get all of their plugins for free. This also means I've had the chance to properly test all of the Waves plugins in a real work setting. I only ever promote products that I like and use myself. Please don't buy anything unless you're sure it's what you need. Check out this post about how to make better buying decisions.
The Best Waves Plugins 2019 Review
Best Waves Plugins 2019 update: For your convenience I'm including a quick access list of links here of all the plugins mentioned in the article. You'll find the detailed reviews below.
These are the best Waves plugins:
Waves Abbey Road TG Mastering Chain
The Abbey Road TG Mastering Chain is a model of a vintage mastering console from the 70's which is still being used today. It sounds great and is fun to use once you've learned how it works.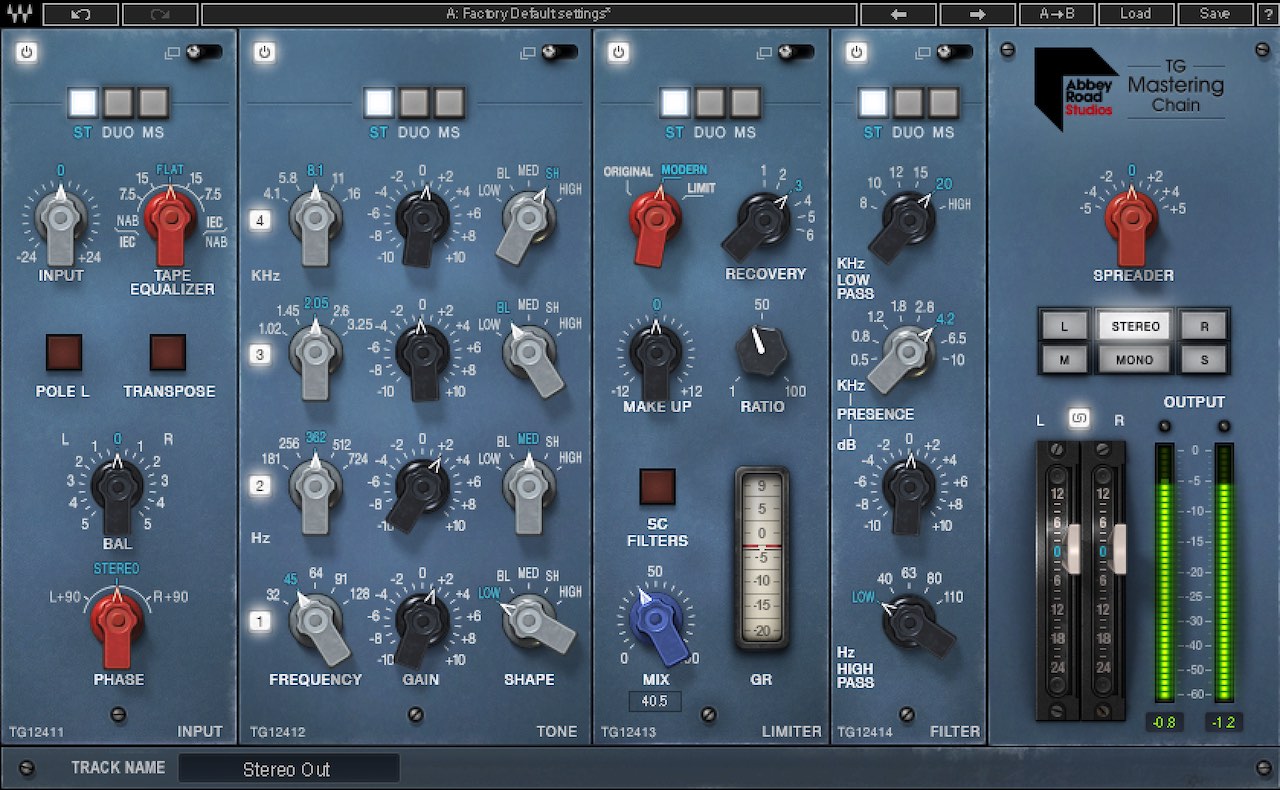 If you're not used to operating analogue equipment (or analogue style plugins), the AR TG Mastering Chain might feel a little bit challenging at first. I am referring to the compression section especially. You really have to feel it out with different kinds of material and learn how the different settings sound.
It really pays off to learn to get to grips with this plugin though. The Abbey Road TG Mastering Chain sounds very nice. The EQ is smooth, the compressor is solid and snappy, and the stereo widener is beautiful in small doses.
Waves Abbey Road TG Mastering Chain Tips
Hit the switch on the top right corner of each module for extended functionality.
You can get many different behaviors out of the compressor. Spend some time with it to learn how it performs with different types of material.
It's easy to do too much with this plugin, especially with the mastering setting. Remember that a little goes a long way in mastering!
Make sure the output of the plugin stays as loud as the bypassed signal. This makes it much easier for you to compare before/after results.
Link: Waves Abbey Road TG Mastering Chain
---
Waves Abbey Road Vinyl
I was quite skeptical of this plugin when I first heard about the Waves Abbey Road Vinyl. I had imagined for a long time it would be nice to have a plugin that models the sound of vinyl. But it's not exactly an easy task to do that well.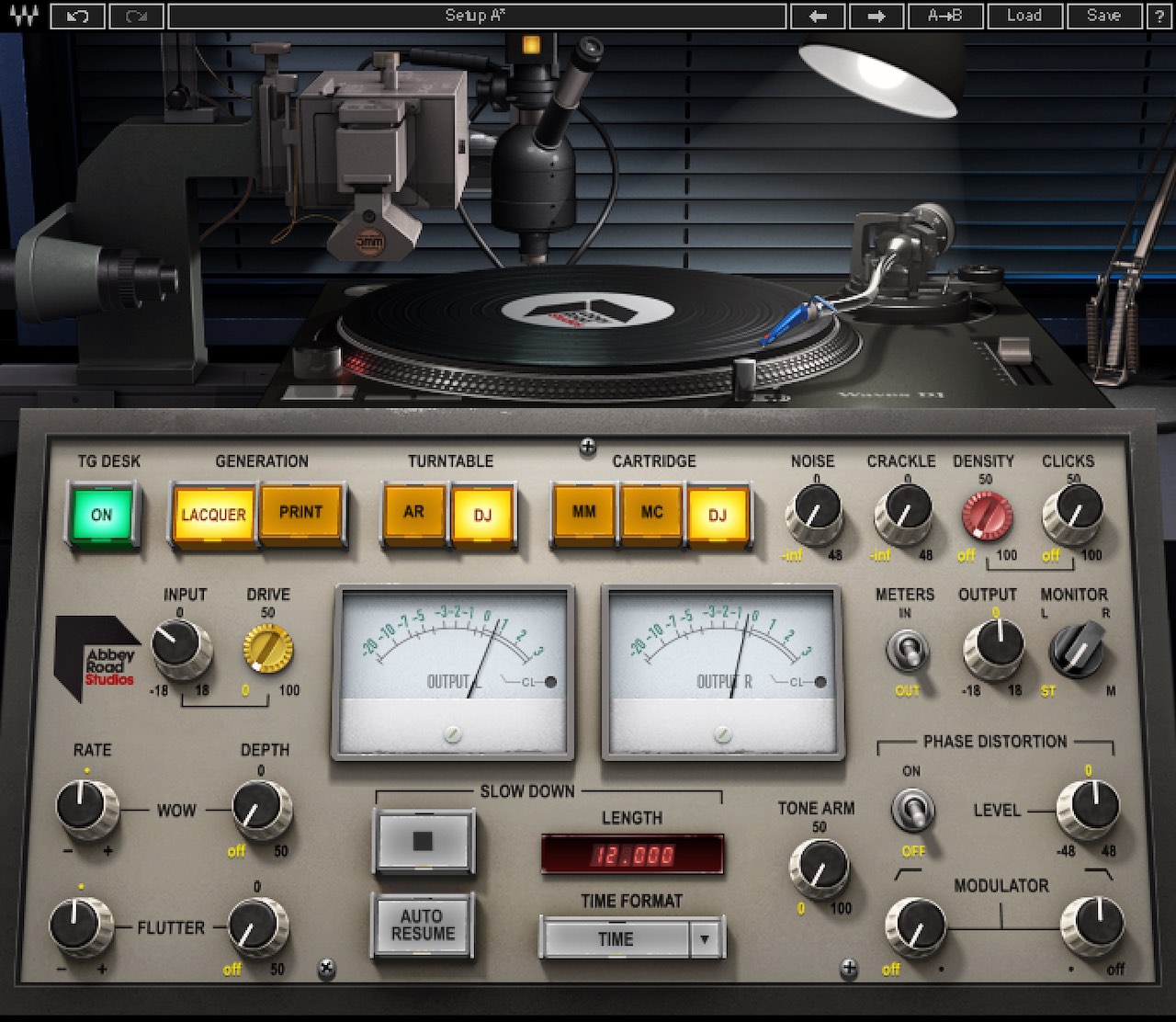 Once I heard the plugin in action it very quickly became clear to me that it's a winner. It can add a lot of vibe and character to your music. Just be careful as it's easy do damage with features like phase distortion. Waves Abbey Road Vinyl is one of the best Waves plugins for mastering. Just remember it's both beautiful and dangerous at the same time!
Waves Abbey Road Vinyl Tips
I like using this plugin on the master bus to add some subtle character. I don't want any artifacts so I turn off the following settings:

Noise
Crackle
Clicks
Phase distortion
Wow depth
Flutter depth.

I set the input gain so that the VU meter doesn't hit much past zero. I use the drive setting to get the right amount of character. I don't like to go much past 15 on the Drive knob (usually I go for a setting of less than 10).
Link: Waves Abbey Road Vinyl
---
Waves BSS DPR-402 Compressor
The Waves BSS DPR-402 compressor is one of the best Waves plugins for drums. Overall, it's also the best Waves compressor. It can go from very subtle glue compression to sounding punchy and explosive to completely smashed or heavily pumping. More importantly, it does all of that well. In addition it does expansion and de-essing. It has several different modes for fine-tuning the compression behavior. You can for example compress the low frequencies more than the highs and vice versa. The sound is excellent and the controls are well calibrated.
The BSS DPR-402 works for any type of music. But if you're looking for that explosive and energetic techno/house/EDM sound, this compressor is one of the best for that. I like to use it on the mix bus or the drum bus.
During the writing of this post I ran some A/B tests against my fav compressors from many other companies and this one came on top when it comes to making the mix bus pump and jump. Which only means one thing: You'll be hearing this one a lot on my music from now on.
Waves BSS DPR-402 Tips
On high ratios this compressor can sound similar to the "All buttons in" mode on the legendary UA 1176 unit!
Check out the different options in the "Jumper" menu. They will let you set the compressor to react differently to different frequencies. It is very useful. For drums, I often like the setting 2 (HF Re-Emph Comp). See the details in the user manual.
Look out for distortion when doing lots of gain reduction with short release time (this is normal for most compressors by the way). A release time of 50ms or more is usually safe.
Link: Waves BSS DPR-402 Compressor
---
Waves C1 Compressor
The Waves C1 Compressor is one of the most iconic Waves Audio VST plugins. It is a surgical precision tool that can be had for a great price. It's been around since the early days of Waves and it still works great to this day.
The C1 is like the Swiss army knife of compressors. It can do a ton of different things. It's clean sounding so it won't add any character to your music (unlike many other Waves plugins).
Waves C1 Tips
Browse through the presets to get some ideas on different ways of using this compressor. There are a lot!
You can get to some very experimental and interesting results with the C1. Try combining expansion with gating, for example. It's a great way of modifying drum grooves and any other rhythmic elements.
As with all Waves plugins of this generation, the product manual is exceptional. I recommend studying it properly to get the most out of this plugin.
Link: C1 Compressor
---
Waves C6 Multiband Compressor
The Waves C6 Multiband Compressor is a true workhorse. It has all the features you would expect and it sounds good.
There is a lot of good competition out there in the field of multiband compressors. The C6 is surely a good one to grab if you don't have a good multiband compressor already and if a good deal is available.
Waves C6 Multiband Compressor Tips
You can change the behavior of the compression by choosing between Electro and Opto settings.
Opto has fast release times at high gain reduction and slow release times as it approaches zero gain reduction.
Electro has slow release times at high gain reduction, and progressively faster release as it approaches zero gain reduction.
Fine-tune by tweaking the Attack and Release settings of each individual band.
Link: Waves C6 Multiband Compressor
---
Waves Center
Waves Center is one of the best Waves plugins for mastering. It utilizes M/S processing to provide some very tactile controls for working with your stereo image. You can adjust the volume of the Mid and Side components, push all the bass into the center, add punch on the center or the sides. It's a very useful plugin and also lends itself well to situations outside mastering.
Waves Center Tips
It can sometimes be hard to hear what's going on with this plugin, because it deals with subtle things. To help with this, move down the "Center" and "Sides" faders in turns and then tweak the controls at the top. That way it will be much easier to figure out what the plugin is doing.
For emphasizing punch and impact in a full mix, try focusing "Low" and "Punch" towards the center.
For simple widening or narrowing of the stereo image, just push the "Sides" fader up or down.
Link: Waves Center
---
Waves Element
Waves are maybe not as well know from virtual instruments as they are from effects. But the Waves Element synth is a great sounding virtual analog synth plugin. It's quite a beast and comes with tons of presets to play around with.
Element is a joy to play with and it has a superb collection of presets to get your creative juices flowing. I especially like goofing around with the arp/sequencer section.
Waves Element Tips
The "Shape" dial is great for fine tuning the VCA.
The "Punch" switch on the VCA can really give your bass patches some extra energy.
I like creating polyrhythmic patterns with the sequencer. Set mode to "Sequence" and set the number of steps to your liking.
The bitcrusher effect in the FX section is refreshing to have on an analog modeling synth. You can use it in very subtle ways or go for total mayhem. Automating it is also an interesting technique.
Link: Waves Element
---
Waves F6 Floating Band Dynamic EQ
The Waves F6 Floating Band Dynamic EQ is a clean and very functional dynamic EQ. There are quite a few good dynamics EQ's out there. But if you are still missing one in your toolbox, this is a good option if you can grab it for a good price.
The latest version of F6 also features a real time spectrum analyzer which makes using the plugin a lot more quicker. I like that the F6 doesn't have too many controls while still managing to have everything that is needed!
Waves F6 Floating Band Dynamic EQ Tips
Use the "Solo" button to accurately hone in on the frequencies you want to target.
Learn to work with the "Attack" and "Release" settings. These can have a great effect on the end result.
With a short attack time, an EQ band can boost/reduce transients very effectively. It's a great trick for working with drums.
With a longer attack time, the plugin sounds more transparent.
Don't forget the Mid/Side mode. It's especially great for complex material where you might only want to target certain frequencies in the middle of the stereo image for example.
Link: Waves F6 Floating Band Dynamic EQ
---
Waves Flow Motion FM Synth
I love FM synthesis. Being an inherently digital form of synthesis, it's a great fit for a software instrument. The Waves Flow Motion FM Synth is a great example of how interesting and fun FM synthesis can be. In fact if I had to answer the questions: What is the best Waves plugin? I might just pick this one.
FM synthesis can be a little intimidating to get started with. I'll tell you a secret: I've used FM synths for the past 15 years without knowing much about their inner workings! Sure, by now I understand the basic principles of FM synthesis. But honestly I just like to have fun and be surprised by these machines. I've always loved the odd, cold, unique sounds and quirky unexpected things that come out of FM synths.
The Waves Flow Motion is not a pure bred FM synthesizer, however, as it also combines elements from traditional subtractive synthesis. It's a great combination. On top of the synthesis features, there are great filter, EQ and FX sections.
Having the different sections of the synth spread out across two different pages (Flow and Motion, respectively) is a great decision. It's a very well thought out interface that doesn't get in your way. Plus I love the clean looks of it.
All in all, Flow Motion is an inspiring package. I don't feel the need to look elsewhere anymore when it comes to FM synth plugins. I'm sure Flow Motion will be finding it's a way in my music for years to come.
Waves Flow Motion FM Synth Tips
I absolutely love the reverb on this thing. It sounds exactly as a reverb should on an FM synth: lush, mysterious and proudly artificial. It's a trip to the outer space (yeah, yeah, I know sound does not travel in the void).
Combine the reverb with the delay also found in the FX panel of Flow Motion and you are in for a hell of ride!
I find myself spending a lot of time in the FX section in general. It's very inspiring. Slightly modulating the bitcrusher and other distotion effects is a great way to add some movement, for example.
As with all Waves synths, the presets are plentiful and superbly designed. It's a great place to start your journey.
Link: Waves Flow Motion FM Synth
---
Waves H-Comp Hybrid Compressor
The H-Series from Waves includes some seriously good sounding plugins for modern music production. The Waves H-Comp Hybrid Compressor is a great sounding character compressor with precise controls. You can use it in a variety of situations – even on the mix bus.
The H-Comp gives you some great mojo and it sounds good even when you hit it quite hard. It works especially well on modern hard hitting electronic, dance, pop and rock music.
Waves H-Comp Hybrid Compressor Tips
You can easily synchronize the release time to your song by using the BPM or host sync functions. I am baffled why so few compressors have this function.
The four analog modes give you different characters. For the type of material I often work with (fast-paced drum & bass music), I many times like number 4. It's always good to switch through all of them to see what works best for the situation.
Turn off the analog character mode for a cleaner sound. I use this setting quite often as well.
The H-Comp sounds very nice on aggressive settings. It's nice to get something crazy going and then dial the effect back a little bit with the mix knob.
Link: Waves H-Comp Hybrid Compressor
---
Waves H-Reverb Hybrid Reverb
The Waves H-Reverb is a fantastically versatile and fun reverb plugin to use. It has so many features and killer presets it's pretty much ridiculous.
The H-Reverb is based on FIR (Finite Impulse Response) technology. It's designed to provide lush, spacious, warm reverberation effects.
You can also get some very nice experimental sounds out of it. Some of my favorite presets include "Unnatural FX/Ghost Verb" and "Hardware/80 Tape Echo". In fact the entire "Unnatural FX" and "Hardware" categories are worth going through with a keen ear.
I especially like that there are a lot of classic hardware reverb units replicated in the presets. It's like taking lesson in the history of reverb. If you're looking for one single plugin that can do pretty much everything when it comes to reverb, this is the one to get. When you grab it on a discount, it's amazing value for your money.
Waves H-Reverb Tips
The plugin installs with 2 different versions: H-Reverb and H-Reverb (long). The difference is that the regular version goes up to 6 seconds in decay time and the (long) version goes up to 12 seconds. This gives you the option of using a less CPU-intensive plugin (regular version) in most situations, while still having the ability to do the really long reverbs if you wish.
The Global section has several options for giving your reverb different characters. My favorite is the "Drive" knob. It pushes the input gain against a clipper, creating a similar effect where the input of a hardware reverb unit is being pushed hard (I still use many hardware reverbs too and I push their inputs all the time).
You can use the "Duck" feature to make the wet reverb signal duck when input signal is present. Great for dense mixes where you want to maximize the impact of each sound. Also equally great as a creative effect.
Link: Waves H-Reverb
---
Waves J37 Tape
I never gelled with the Kramer Master Tape. But the Waves J37 Tape is a different story. The original J37 was a one-inch 4-track recorder designed by Swiss recording pioneer Will Studer. The Abbey Road Studios were using four of these machines in the '60s.
The Abbey Road J37 Tape has wonderful character. Unlike with some of it's competitors, it's quick to dial in a good sound. It comes with the cost of less tweakability of course. But I appreciate the ability get a good sound quick and then just move on.
I also love how the tape delay sounds. Just remember to keep the noise, flutter and wow at bay!
Waves J-37 Tape Tips
The plugin models three different tape types, each with their own character:

EMI TAPE 888 (early '60s) – Considered "lo-fi" and "grainier" compared to the other formulas, with more distortion between 1 kHz and 8 kHz.
EMI TAPE 811 (mid to late '60s) – Offers better high frequency response and slightly less distortion than the 888 formula.
EMI TAPE 815 (early '70s) – Delivers flatter high frequency response and less distortion than the 811. Recommended when minimal coloration is desired.

15 ips tape speed delivers better high frequency response and less THD (Total Harmonic Distortion), where as 7.5 ips delivers somewhat tighter low frequencies at the price of reduced high frequency.
You can always set up a nice EQ after the J37 to make up for the loss of high frequencies on the 7.5 ips setting. The Waves RS56 is a great pairing, for example.
Try the three mastering presets on your mix bus to get an idea of what kind of things the plugin can do in that setting. Examine carefully how the presets are set up for achieving the desired effects:

Mastering Hi Freq Smoothing Round Bottom
Mastering Fat Tight And Open
Mastering Mid Freq Enhancer
Link: Waves J37 Tape
---
Waves MaxxVolume
This plugin is great for making things tighter, louder and for leveling dynamically uneven material. Waves MaxxVolume is one of the best Waves plugins for vocals or drums.
The low-level compression on MaxxVolume is a secret weapon, and it also has very functional gate and leveler sections. It also has a regular compressor.
Waves MaxxVolume is very useful for working with voice/dialogue, or any other uneven material that needs some leveling and loudness. I also use it on things like a percussion loop that is a bit too all over the place dynamically.
Waves MaxxVolume Tips
The low level compressor is a great tool for making things louder without losing punch. With a low level compressor, any signal that goes below the set threshold gets compressed upward, resulting in increased gain. The dynamic range is thus compressed, pushing low levels up while leaving high levels as they were.
Use the bypass switches (the little square on/off lights) on the faders to A/B between processed and unprocessed versions of the signal.
Link: Waves MaxxVolume
---
Waves MetaFlanger
The Waves MetaFlanger is one of the earliest plugins from Waves. It's been around for about as long as I've been making music! It also looks the part, but after all these years it's still my favorite flanger.
The MetaFlanger sounds phat and analogue-like to me. It has this very cool metallic futuristic sound that I like. You can hear the preset "Mutron Biphase" at work on several of my releases. It's quite a straightforward plugin to operate. The presets are a lot of fun.
Waves Metaflanger Tips
As with any plugin that is designed to do phasing and flanging effects, it's possible to cause phase problems and lose mono compatibility when using Metaflanger.
Use a phase correlation meter to visually check that your material isn't being pushed out of phase.
Also listen back to the material in mono to make sure nothing essential is getting lost.
The manual is totally worth reading. I wish Waves would go back to doing manuals like they used to back in the day! Very educational and even entertaining at parts: "Another example of flanging in nature, if we can call it that, occurs when short-wave broadcasts have multipath interference. In this case, the delay lines are the atmosphere and the ionosphere, which is extremely expensive and won't fit in an equipment rack."
Link: Waves MetaFlanger
---
Waves PS22 Stereo Maker
The inventor of the PS22 Stereo Maker, Michael Gerzon, passed away in May 1996, only months after the plugin was released. He was clearly a brilliant mind and invested years of mathematical research as well as audio engineering into creating the process seen in PS22. Now, in 2019, the Waves PS22 is still as great as ever. It's truly a timeless toolset that suits professional standards.
PS22 StereoMaker is a set of tools for creating convincing stereo results from mono source material as well as a set of true stereo-in/stereo-out processing tools for synthesizing a richer stereo effect from existing stereo material. It is far more than merely another "pseudo stereo" effect. It is a mixdown and remastering tool capable of producing subtle or dramatic stereo effects of an impeccable quality.
The PS22 is designed to incorporate several aspects that distinguish it from many "pseudo stereo" effects:
Tonal neutrality. The PS22 always preserves the original frequency response.
Very low phasiness. This results to a sound that is more pleasant and convincing than with some other similar effects.
Stereo-in/stereo-out processing. While StereoMaker processing can be applied to central mono sounds to produce a stereo spread effect, StereoMaker is unique in actually working with full stereo inputs, spreading each input stereo sound source around its position in the original stereo stage.
Wide spread effect without sounding weak.
No unwanted side-effects. StereoMaker aims at avoiding any sound alterations other than those needed to create a convincing stereo image. As such, it has no conflict with other kinds of processing such as EQ or reverb.
Waves PS22 Stereo Maker Tips
The PS22 tool set contains three plugins: S22-Spread, PS22-Split, and PS22-XSplit.

PS-Spread creates a smooth spreading of sounds across the stereo stage. It not only has low phasiness and the capability of spreading around any stereo position, but it also offers adjustment of additional bass spread enhancement for an exceptionally spacious effect. There are two variations of this plug-in: PS22-Spread and PS22-Spread(10). The (10) version has only 10 sweeps, and therefore uses less DSP.
PS-Split completely splits sounds across the stereo stage. Visually speaking, the graphic representation of the PS-Split looks like a square wave swinging between left and right, where the PS-Spread effect looks like a sine wave. The resulting effect is a dramatic left-right split.
PS-XSplit is the same as PS-Split but with followed by a further process that cross-feeds the missing frequency bands from one channel to the other. This creates a more natural, yet more spectacular stereo effect.

You really, really need to read the manual with this one. Especially the section "In-depth topics". Trust me, you'll thank yourself for doing it.
I have a thing for using the PS22 on snare drums! Try it out.
Link: Waves PS22 Stereo Maker
---
Waves S1 Stereo Imager
A classic of the classics! The Waves S1 Stereo Imager is a very handy plugin for controlling and enhancing your stereo image.
The S1 is programmed with solid audio engineering principles in mind. So you can trust that it won't do harm to your music when applying widening or stereo image enhancement.
Waves S1 Stereo Imager Tips
The plugin installs with a few different versions. The "S1 Shuffler" is in fact the full version of the plugin.
Use the "Shuffle" feature to safely add dimension in the lower end of the frequency spectrum. The "Freq" control defines the frequency below which the effect is applied. Shuffle is fully phase compensated so it won't cause problems with mono compatibility.
Using Shuffle can cause the mix to lose some perceived weight because the low-end frequencies are being distributed over a wider area. Not to worry! The "Bass trim" control is included to compensate for that, and it works great.
Link: Waves S1 Stereo Imager
---
Waves Scheps Omni Channel
I am a heavy user of channel strip plugins. For me, the Waves Scheps Omni Channel is the best channel strip from Waves. It is one of the best channel strips out there also counting any other competition (and I've used a lot of them). This isn't a surprise because the plugin is developed in collaboration with the legendary mixing/recording engineer and producer, Andrew Scheps.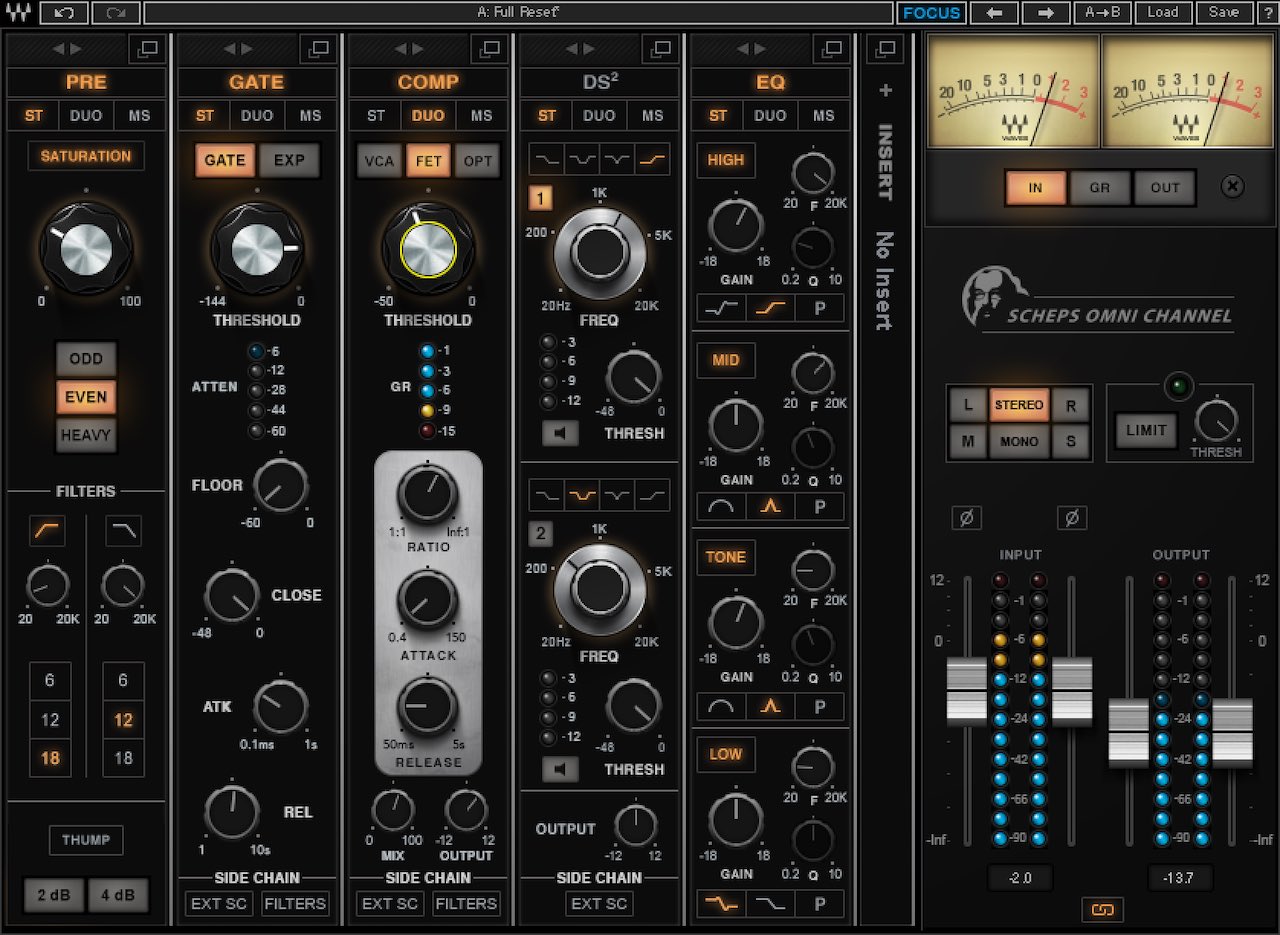 The Scheps Omni Channel is very well designed set of mixing tools. It's a true workhorse plugin. It has six different sections that you can rearrange freely:
Saturation/filters
Gate
Compressor (3 different ones in fact: VCA, FET and Opto)
De-esser
EQ
Insert (you can insert any Waves plugin that you own here)
Additionally there' s an output section with monitoring controls and a brickwall limiter to control peaks. It's very quick to dial in a setting that sounds good – always a mark of a good channel strip. I highly recommend checking out this plugin. It gives you a lot of bang for the buck.
Waves Scheps Omni Channel Tips
The metering/monitoring section is very useful and nicely laid out. The VU is great and I love having the mid/side/mono listening options there.
Use the little square icons at the top right corner of each module to expand the interface and access further options.
Play with the compressors – they all sound quite distinct and good in their own way. The FET is my fav. Great for an aggressive, in-your-face sound!
I am not a huge fan of how the Saturation module sounds when pushed. So I prefer to go pretty easy on that and use other things for saturation.
The gate is one of the best I've used. No matter if you want to use it for subtle cleanup or as a creative tool, it's quick to find settings that work.
Having the ability to gate the Mid and Side signals separately is very interesting!
The Mid and Tone EQ bands are identical except in the wide mode, where Mid is wider and cleaner and Tone is narrower and more smeary. The Mid band is better for enhancing the natural character of the source. The Tone is better for making the source pop out and giving it some color while still keeping it glued to the rest of the material.
Link: Waves Scheps Omni Channel
---
Waves Scheps Parallel Particles
I am usually not a big fan of plugins that are vague about what is really going on under the surface. And I am not a fan of how this plugin looks like. But after testing the Waves Scheps Parallel Particles, I must say I like what it does. It sounds good and is gentle enough to be used on the mix bus.
The idea of the plugin is best explained in Andrew Schep's own words:
The controls in Scheps Parallel Particles are not about EQ, compression, or surgical tweaking. They are about attitude, energy, and the emotion you get listening to your track. With this plugin, an audio education is not a prerequisite; just twist the knobs and listen. "This plugin gives you an alternate way of finding the sound you want without having to figure out which of the traditional tools will get you there. It is as much an attitude shaper as a tone shaper, so you can focus on how you want the track to feel.

Andrew Scheps
Scheps Parallel Particles is not something I personally would use much because I like to achieve these things using specific tools that give me more control. But for someone who is maybe not as experienced and possibly even feels intimidated or overwhelmed by the more traditional processing options, this plugin is great.
Waves Scheps Parallel Particles Tips
Match the processed volume to bypassed signal so that you're not fooled by the level difference when making judgments. The input and output controls are linked by default, so you might want to unlink them.
Look out for the input volume. You should not be hitting the level light in the red (like I am doing in the picture above). The plugin is calibrated to work best with green/yellow.
"Sub" enriches your existing subs and/or adds sub frequencies that were never there before. It works more with resonance than with EQ, so it's a great way to create presence in the low end without losing control.
"Air" focuses on the top end and brings it to the forefront. Traditional EQ can yield unwanted noise or artifacts, but the Air control synthesizes the top end from your existing lower frequency material, leaving it clean.
"Bite" can make your sound seem more aggressive. It appears to act on the front ends of the notes (those that reach your ear first ), but it also has a big impact on the release. A singer will sound more energetic, a snare drum will have more attack, a bass guitar will sound more present, and so on.
"Thick" adds solid body to the signal, smoothing out the lower mids and midrange. It can give the feeling that the microphone is a bit closer, or the room ambience is a little darker.
Link: Scheps Parallel Particles
---
Waves Submarine
Waves Submarine is a subharmonic generator. I have used many such plugins and I can confidently say this one is the best in most situations.
Submarine constantly tracks the bass content of the track and generates subharmonic frequencies based on the settings. It sounds floor-shaking solid, the tracking is impressively accurate and the controls are good. Highly recommended!
Waves Submarine Tips
Use the "Drive" control to add some upper harmonics to the generated sub-bass to glue it better to your mix.
Use the "Dynamics" to compress the generated sub-bass. With this, you can make it less thumpy and more even sounding if you wish.
The "Mono sub" option generally produces a stronger sub sensation as it will make all loudspeaker cones move in sync.
The sub-bass this plugin generates can go so low that you might not be able to hear it on your system. Yet it's there and it could be very loud. Be careful and use a spectrum analyzer to verify what is going on.
Link: Waves Submarine
---
Waves Trans-X
If you're wondering about which Waves plugin I use the most… Here it is! Waves Trans-X is one of the best Waves plugins for drums. I have loads of transient shaping plugins. Waves Trans-X is the one I use 90% of the time. I use it on every single mix I do. Usually on multiple occasions.
I just like the way it makes drums smack. It gets the job done with minimal fuss. The plugin comes with single- and multi-band versions. The single band is easier on the CPU and the multi-band gives you more precision. And yes – I prefer the good old Trans-X to the newer Waves Smack Attack plugin! I ran them against each other several times and I always preferred Trans-X (although with Smack Attack you do get better control over the sustain).
Waves Trans-X Tips
Try the "Pensado 808" preset on something that sounds flat, and be amazed.
It's easy to do much with this plugin. You can lose the natural body of the material so be careful.
I like to start with a high range setting. This allows me to hear better how the plugin is reacting to the transients in the particular material. After adjusting everything else, I then drop the range back down to an appropriate level.
Link: Waves Trans-X
---
Waves Vitamin Sonic Enhancer
Vitamin is a multiband harmonic saturation device. It sounds very good and is easy to operate. It is not meant for full blown distortion but subtle enhancing. I love the controls it has for stereo image. The clean classic looks make Waves Vitamin a joy to work with. Used subtly, this is one of the best Waves plugins for mastering. But it's equally good for using on subgroups or individual tracks.
Waves Vitamin Sonic Enhancer Tips
If you have the habit of making your low-end mono, you can do that with Vitamin. Just dial the stereo width of the "Lo" band to zero.
You can turn down the "Direct" fader completely to hear only the processing added by Vitamin. This is very useful.
Watch the input and output meters. Match levels using the output gain to make better mixing decisions.
Link: Waves Vitamin Sonic Enhancer
---
Waves X-Noise, X-Click, X-Hum & X-Crackle
These are seriously good reduction plugins for resolving many kinds of problems in the audio. They are simple, easy to use and have saved me from trouble more times than I can count. If you are looking for a capable and affordable solution for basic audio restoration duties, look no further.
Link: Waves X-Series
---
Waves Z-Noise
The Waves Z-Noise is slightly more advanced (and more costly) than it's X-Noise sibling. You can teach the plugin the noise profile of your material and it will then intelligently work with it. It works great.
Link: Waves Z-Noise
---
What is the best Waves Bundle?
Which Waves bundle would I recommend to get?
Honestly, with many of the Waves plugin bundles there are a lot of plugins that you may never need. I prefer the option of picking specific plugins yourself to create your own bundle. Waves is offering (for the time being at least) discounts for buying 2 or more plugins. If you buy 6 or more plugins you get 40% off. This is pretty good if you are buying plugins that are already discounted in the first place.
Having said that, there are a couple of Waves bundles I would recommend: The Waves H-Series Bundle and the Waves Renaissance Maxx Bundle.
Waves H-Series Bundle
The Waves H-Series Bundle has only 4 plugins. But they're all very good at what they do.
This Waves plugin bundle includes the following 4 plugins:
H-Comp Hybrid Compressor: Pioneering FIR reverb with rich, natural-sounding tail
H-Delay Hybrid Delay: Super-versatile delay, from old-school to cutting-edge
H-EQ Hybrid Equalizer: Vintage and modern EQs inspired by top mixing consoles
H-Reverb Hybrid Reverb: Combines the behavior of analog transformers, tubes and transistors with the precision of a plugin compressor
The reverb and compressor are especially fantastic. The delay and EQ are also useful and very well executed plugins. This in my opinion is the best Waves Bundle.
Link: Waves H-Series Bundle
---
Waves Renaissance Maxx Bundle
I know I haven't included any of the individual Waves Renaissance plugins into my review of the Best Waves Plugins. This is only because I feel the Waves is so huge that there are other plugins that have a slight edge on some areas. Still, the Waves Renaissance plugins are very solid performers. As a plugin bundle, the Waves Renaissance Maxx is in fact quite attractive. And it can be a complete steal if you wait for the right discount.
This Waves bundle includes the following 10 plugins:
IR-L Convolution Reverb
Renaissance Axx
Renaissance Bass
Renaissance Channel
Renaissance Compressor
Renaissance De-Esser
Renaissance Equalizer
Renaissance Reverb
Renaissance Vox
Waves Tune LT
The Renaissance plugins recently went through a much needed facelift. They are now not only much better looking but, more importantly, better to use due to the reworked interfaces.
If you are asking the question: What is the best Waves bundle for vocals? This would be my answer. Yes – the Renaissance Maxx bundle is even better than the Waves Vocal bundle.
Link: Waves Renaissance Maxx
---
Best Waves Plugins: Demo Video
In this demo video you'll see me using many of my fav Waves plugins in a setting that is typical for me. If you have any questions just let me know in the comments section or email me via the contact page.
Questions About Waves Plugins?
So here you have my review of the best Waves plugins and the best Waves bundles. Let me know your thoughts in the comments section! If you have any questions about a specific Waves plugin, I'll be happy to answer. You can also email me via the contact page.
Also make sure to check out my review of the Best Waves Plugins for Mastering.