I've recently jumped on Pro Tools 11 for mixing. I've only worked with VST/AU compatible hosts before (Logic, Ableton Live). Now with Pro Tools I've been introduced to a new plugin format, the AAX.
The plugin fiend I am, I've been scouring the internets for the best free AAX plugins to add to my fresh Pro Tools setup. I've posted about the best free VST and AU plugins before and now it's time to take a look at what's available in AAX. And boy do we have some goodies on offer! 
Now, this post is not an extensive listing of all free AAX plugins. There are many more available, and without a doubt I've missed some cool ones (please let me know if you think so).
In keeping with the spirit of this blog, I focus on quality. I've hand picked the top of the crop for you here.
What is AAX format?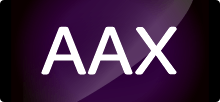 AAX is Avid's own plugin format which was introduced a couple of years back. Pro Tools 10 supports 32-bit AAX plugins. The newer Pro Tools 11 version only supports 64-bit AAX format (and no other plugin formats).
Why another format – we already have VST and AU? Avid says:
"In order to create a 64-bit version of Pro Tools, it was necessary to develop a plug-in architecture that supports 64-bit processing. AAX was created for the future, and will pave the way for Pro Tools technology advancements down the road."
Makes sense to me if it adds stability and future-proofness. My experience is that host crashes are often related to 3rd party plugins. Of course there's probably politics involved as well; I will leave that to someone else to muse about.
I was initially afraid of not being able to use some of the VST and AU plugins I own in Pro Tools 11. However I was quite pleased to find out that most of these plugins also do come in AAX versions by now.
There are a few that will be missed though, but it looks like most plugin manufactures are on the case and in the process of porting their products to the AAX format (if they haven't already).
OK – enough of the format. Let's dive in.
---
The Best Free AAX Plugins (2014 edition)
Softube Saturation Knob
This is a great sounding and delightfully simple plugin that has the potential to transform entire mixes. Use it subtle or drive it hard, the choice is yours. Sounds great either way!
Info & download here
---
Metric Halo Thump
Thump synthesizes low end based on what it's hearing. It looks both at the pitch as well as the dynamics of your audio. You can tweak it quite a lot too and tune it very precisely. Very useful.
---
HOFA 4U Pack
HOFA offer three free plugins in this bundle. The highlights for me are the loudness meter/fader/m-s pan plugin and the goniometer & correlation meter plugins. Great stuff!
---
BOZ Panipulator
A cool utility plugin to put on your master channel. Allows you to check your mix in mono, invert phase and swap L/R.
---
BOZ Bark of Dog
The Bark of Dog is a beast of a plugin! I am already finding myself drawing for this one a lot. It puts some smack on your low end. Be careful of the bowel movement.
---
BX_Solo
Stereo width control and Mid/Side solo. Great tool.
---
BX_Cleansweep V2
This is an useful little plugin for cleaning the low end of your mix without causing problems.
---
TDR VOS SlickEQ
This is a plugin that I have been raving about, and there's no way not to include it in this article. A great, great EQ for coloring and mastering situations. They also recently released the Gentleman's Edition paid version, which is even more awesome.
---
TAL Chorus LX
This chorus plugin is the definition of fat. Love it. The stereo width control and dry/wet mix adjustment make it perfect for beefing up many kinds of things. It's modeled after the Roland Juno 60 chorus.
---
U-He Zebralette
This is a great sounding synth! Comes with a demo of their paid Zebra 2 instrument.
---
Flux BitterSweet V3
BitterSweet is a transient designer tool and a very useful one. I have been using it a lot on drums. Even if you have other transient processors, I recommend downloading this because there are differences in behavior between different processors. I often find myself trying different ones and seeing which one gives me the best result in each situation.
---
Blue Cat's Freeware Plugin Pack II
This is an excellent pack of plugins, but for me there is one here above the rest: the FreqAnalyst spectrum analyzer.
---
Ample Guitar M Lite
I am not much of a guitarist myself but this plugin is sounding great to me and lots of fun to play around with. It's a very advanced emulation of acoustic guitar – I am quite impressed by the quality and features of this plugin! Some of the features are locked though and only available in the paid version. It is an unusual plugin but fun to check out and could come handy in some situations!
---
Acon Multiply
Last but not least, a plugin that Dave Pensado tipped me off with (thanks!). If he uses this, so should probably you. Acon Multiply is a versatile chorus effect with plenty of settings. You can use it for all kinds of things from creating multiple voices to doing special FX and spatial work.
---
There we go – enjoy the plugins and please do let me know if you think there are some good ones missing!
If you enjoyed this article, I would appreciate if you shared it by tweeting, through Facebook or whatever happens to be the most convenient way for you – thank you!